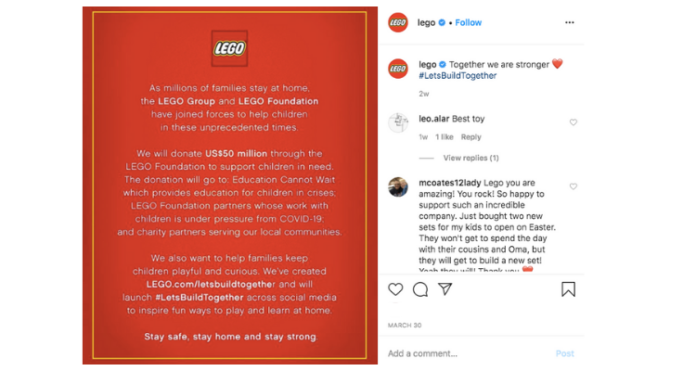 From IKEA setting up COVID-19 testing centers in its parking lot to SAS airlines retraining their employees to help in hospitals, hundreds of companies around the world are changing are working tirelessly to help the world cope with the coronavirus crisis. Now, LEGO can be added to that list.
In a post on Instagram, LEGO's official account stated, "This week we began to make visors at our factory in Billund for healthcare workers on the frontline in Denmark."
They also added a behind the scenes photo of their employees at work:
Finishing off the post, LEGO noted, "We are so incredibly proud of the team who made this happen. They worked around the clock to create designs and make molds that can produce more than 13,000 visitors a day. We are grateful to have such talented, dedicated and caring colleagues. ❤️"
This is not LEGO'S first act of kindness. The company recently announced a $50 million donation through their LEGO Foundation to a variety of nonprofits, such as Education Cannot Wait, which provides education for children in crisis, as well as other non-profits and communities.

Last week, the company announced a $50 million donation toward relief efforts, including a contribution to the charity Education Cannot Wait, which "provides education for children in crises."

LEGO ended their post with inspiration: "Stay safe, stay home and stay strong."