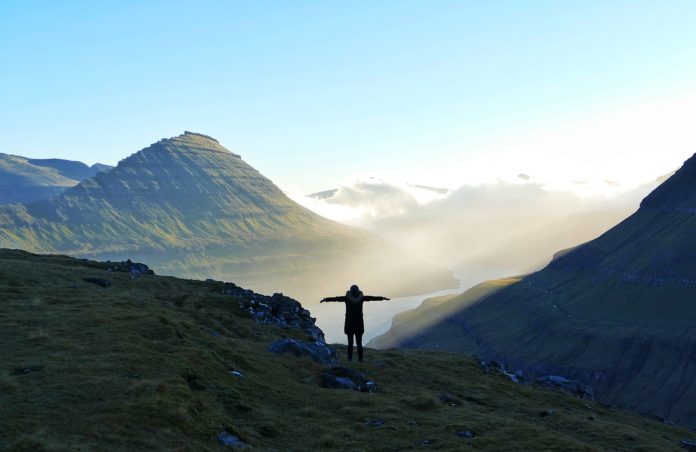 Are you getting tired of life indoors? Have you already organized your entire pantry, learned a new language, burned through all of your workout DVDs, and want something new? 
We have just the thing: take a trip to the Faroe Islands! 
No, not on an airplane. Virtually, of course! 
The Faroe Islands' tourism board has come up with an original plan to get more people to "travel" to the islands and see everything that it has to offer. On their website, Remote Tourism, armchair travelers can tune into a live stream, and journey through the islands. 
The tourism board is equipping local Faroese volunteers with a live-streaming video camera and an iPhone, effectively turning them into something of a real-life video game character. Internet users can log on to specific times listed on the website, and control their local Faroese by telling them where to go via an online controller. Each 'traveler' gets one minute at the helm of the controller by telling their guide to go forward, left, right, or back. There are also commands to run and jump. Along the way, your remote-controlled local will stop and tell interesting facts about the spots where they were. 
The idea of the Faroe Islands' "remote" tourism was born after travel restrictions have caused tourism industries around the world to shut down in response to the coronavirus crisis. To put it in perspective: around 130,000 travelers visited the Faroe Islands last year and generated about $115 million USD. This year, the islands would be lucky to see even one-third of that. 
Gudrid Hojgaard, director of Visit Faroe Islands, said in a statement:  "When the travel bans began to escalate, we sat and wondered how we could recreate a Faroe Islands' experience for those who had to cancel or postpone their trip to the Faroe Islands, and for everyone else stuck at home."
Sara, one of the local guides, is excited to show off her home: "Being remote-controlled by a person thousands of kilometers away was a very strange experience, but it was so much fun and I really look forward to doing the rest of the tours."
Hojgaard ended his statement with optimism: "We believe that our remote islands are the perfect place to inspire people in lockdown — and, naturally, we hope to welcome them in person once everyone is free to travel again."