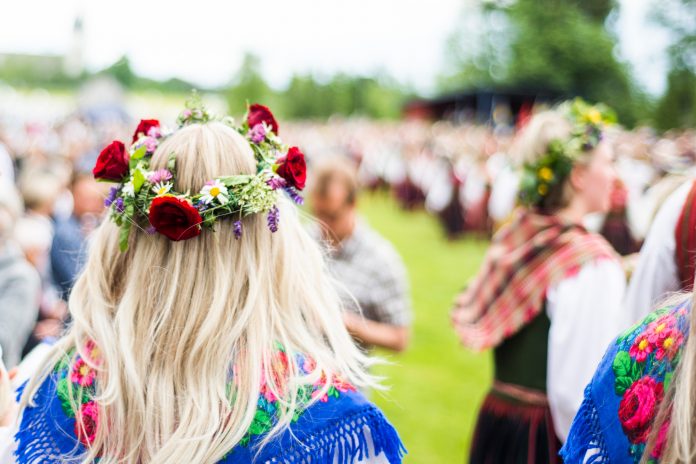 Midsummer is finally here.
If you are Swedish, or lucky enough to have a Swede in your closest group of friends during this time, the magic and excitement of midsummer can be felt in the air, no matter where in the world you are.
We all know Scandinavians are high-level experts in celebrating holidays, but not so much retelling the history behind their holidays.
No need to worry, we are here to break down Midsummer for you.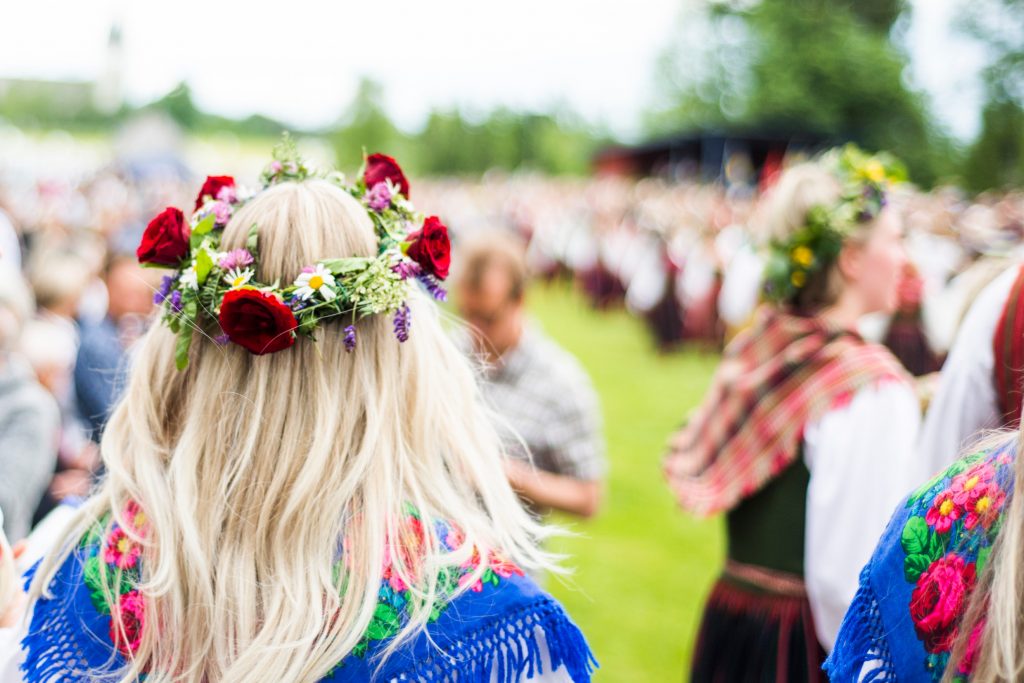 HISTORY
Midsummer is traditionally celebrated on a day between June 19  and June 25, to correspond with the summer solstice. This year, it falls on June 24, 2022.
Originally celebrated on June 24 – the feast day of Saint John, the Baptist. Midsummer was originally a celebration meant to "chase out" the dreary winter weather and welcome summer with food, dancing, quite a bit of drinking, and good company – a tradition that has continued to this day.
To many Swedes, midsummer is also the very start of their famous month-long summer vacation.
READ: Swedens Famous, Month-Long Vacation Law Is Over 80 Years Old
HOW TO CELEBRATE MIDSUMMER
There are plenty of ways to celebrate Midsummer: We decided to list the key components of any Midsummer celebration. Don't forget to read our popular Midsummer menu article, complete with recipes for popular summer dishes. 
READ: [Recipe] The Big Swedish Midsummer Menu
NATURE/SUMMER HOUSES/PARKS:

Midsummer is traditionally celebrated in nature, such as parks, gardens, cottages, and the archipelago. The most popular location is at someone's summer house, also known as a landställe. If you're a city dweller, we recommend Dalarna or Gothenburg, which are known for their colorful and public Midsummer celebrations.
FOOD:

Although the food might not be as important on Midsummer as the drinks or dancing around the maypole, it's still the best time to enjoy all the components of Sweden's fresh summer cuisine. Packed with seafood in different shapes and forms  – you'll typically see different kinds of pickled herring, boiled new potatoes with fresh dill, salmon, smörgåstårta, and more. For dessert, chances are that you'll be enjoying a classic Swedish strawberry cake or fresh berries with whipped cream.
DRINKS: To wash down all of that delicious food, Swedes come prepared: The traditional drinks are either a cold beer or wine and most definitely snaps. This is also the holiday where Swedes drink the most in the entire year.  
THE MAYPOLE: No midsummer is complete without a maypole. Typically the maypole will be decorated with flowers and greenery, with the Swedes singing and dancing around the pole. One of the more hilarious dances to see are "Små grodorna", the little frogs, in which the participants jump around and sing like frogs. Yes, adults too.

The tradition of the maypole is, as many of the other midsummer traditions, ancient and symbolizes fertility. Not only between a man and a woman, in that sense, but also the fertility of the earth. And perhaps you already guessed it, the midsummer pole depicts the male genital. Yes, Swedes dance around a flower genital pretending to be frogs. Deal with it. 
LEGENDS

: Midsummer is a time of mystery and magic. There's a traditional belief that if a girl picks 7 different flowers during the midsummer night and puts them underneath her pillow, she will dream of her future husband.

Legend also has it that the night of midsummer eve is a magical time for love. Although Swedes are usually not the typical spiritual or religious types, many can probably still attest to the magic of midsummer and the ancient traditions that focus on love during this weekend.

In fact, until very recently the end of March was the period of time when most Swedes were born. Midsummer undoubtedly being the culprit.
How are you planning to celebrate this year's Midsummer? Share your plans in the comments below!
Featured image: Per Bifrost/imagebank.sweden.se
This article was originally published on June 19, 2020 and has since then been updated.