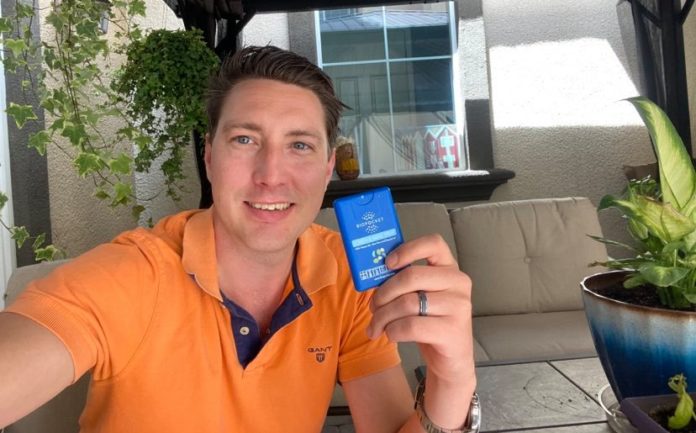 Hygiene of Sweden is the small family-owned sanitizing company that has made quite the splash since entering the U.S. market late last year. With a non-alcohol based formula, they have managed to set themselves apart from other sanitizing companies in a time where a lot of pressure has been put on the industry to keep up with demand.
Since bringing on their popular Biopocket to Swedes in the State's own shop, The Nordic Collective, we have received a number of questions about their product from our readers.
Together with Swedish entrepreneur, Glenn van Helen we decided to put tog answer some answers for you.
READ: Meet Glenn Van Helén: Bringing Swedish Biotech to the U.S. Market
Where is Hygiene of Sweden's Biopocket produced?
The founder of Hygiene of Sweden lives in Helsingborg, so the product is produced close by in both Landskrona and Helsingborg in the south of Sweden.
---
What are the active ingredients in the Biopocket?
We use multiple active ingredients in our antibacterial solution. We combine them with a plus-charged polymer to make the solution adhere to any surface and this gives the solution a long-lasting effect. The combination is very effective in killing bacteria and viruses without the risk of getting resistant bacteria.
---
How does it compare to alcohol-based sanitizers?
Alcohol-based hand sanitizer work by poisoning bacteria trough a single active substance and they stop being active once they have dried out.
Hygiene of Swedens antibacterial is an advanced formulation that affects both bacteria in a chemical and physical way. That way you will continue to be protected even when it becomes dry.
---
Is this FDA approved?
Different countries have different regulations regarding biocidal products.
Our compliance expertise is working on always making sure that we follow the latest requirement by the local health authorities.
USA – FDA is regulating the market and provides a guideline for products to follow to be compliant. There is no registration to apply for.
Sweden – Swedish Chemical Inspection is regulating the market and we have a registration of the formula since 2011
---
How many sprays are there in each Biopocket?
There are about 225 active sprays in each Biopocket. Use 3-4 sprays for hands and 2-3 sprays for phones or screens.
---
How can your formula be effective without alcohol?
We believe it is more effective.
Here are some of the main differences from a chemical substance that has antiseptic characteristics (alcohol) and a formula designed to be antiseptic and adapted for its purpose.
Alcohol has a very fast and physical effect against microbes. It kills bacteria and viruses by dissolving them. Since alcohol evaporates in a normal atmosphere, the effect only lasts for 10-15s (depending on the % of the alcohol).
Hygiene of Swedens Antibacterial formula does not evaporate. This means longer protection and a longer contact time towards bacteria and viruses.
Our clinical studies have shown positive effects against ie. Norovirus. This is a complicated [non-enveloped virus] to kill, and alcohol has not proven been effective against this virus.
Hygiene of Swedens Antibacterial formula is designed to not create MRSA (Multi resistant bacteria) and is attacking microbes both in a physical and chemical way.
Read more:
"Alcohol handwash is becoming less effective against some strains of antibiotic-resistant bacteria, but it doesn't mean we stop sanitising our hands
By Dr Daryl Holland, University of Melbourne"
https://pursuit.unimelb.edu.au/articles/is-this-the-end-for-alcohol-handwash-in-hospitals
A recently published study on how some bacterias are getting more and more tolerant towards alcohol by the Peter Doherty Institute for Infection and Immunity and Austin Health published in Science Translational Medicine:
http://stm.sciencemag.org/content/10/452/eaar6115?rss=1
If you want to check out Hygiene of Swedens products, you can find them on The Nordic Collective.
This article was originally published August 4, 2020