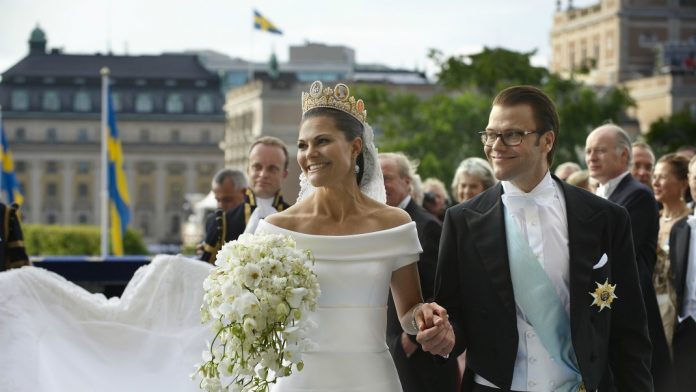 H.R.H Crown Princess Victoria and her beloved Daniel recently celebrated the 10-year wedding anniversary. Today, they have two children, Princess Estelle, and Prince Oscar, while representing Sweden, hand in hand.
https://www.instagram.com/p/BvJLM1NlMbX/
But their love story is far from conventional, and having their relationship accepted by the royal family initially proved to be an uphill battle.
The crown princess Victoria was born into the spotlight, surrounded by media, and was from the age of two trained to be the next head of state of Sweden. Daniel was raised in the countryside, in a small Swedish town called Ockelbo, blissfully unaware that his crown princess one day would become his wife and the mother of his children.
How did the love story of Crown Princess Victoria and Prince Daniel begin?
Let's rewind back to the year 2001: Victoria had just returned back to Sweden from the United States after studying for a few years at Yale University. She had recently ended her relationship with long-term boyfriend, Daniel Collert, who had moved to New York to be close to her while she was in Connecticut.
Like one does when trying to reboot life after a move or a break-up, Victoria joined a small, boutique gym in Stockholm on the recommendation of one of her close friends. The gym, Master Training, was co-founded by the personal trainer and Stockholm transplant, Daniel Westling.
Daniel took it upon himself to be the Crown Princess personal trainer and the two had an instant connection. However, according to Victoria, it wasn't loved at first sight.
During a press conference announcing their engagement in 2009, she said, "it didn't say "click",", referring to her own father and mother's love story, where it had, according to Queen Silvia, said "click" the moment they met.
"Daniel and I had a great and well-founded friendship. It was a friendship that grew and turned into love." Daniel agreed, adding "Our friendship developed into love. It is the perfect personal chemistry."
Although it sounds like something taken straight out of a fairytale – a humble man of the people, marrying a princess, the struggle to get there has been anything but a fairytale for the two.
There were some bumps along the road that, at times, seemed insurmountable. Daniel, who had no previous experience of being in the limelight, openly admitted that he had struggled with the media attention and pressure that came with dating the crown princess.
On top of that, the king and the queen were skeptical of whether Daniel would be able to fulfill the duties and responsibilities of a prince. They weren't convinced that he would be capable of supporting Victoria in her role as crown princess, and one day, queen.
According to the journalist, Johan T. Lindwall, who frequently covers stories on the Swedish royal family, Queen Silvia had mentioned to her friends that she simply did not believe the relationship between Victoria and Daniel would last. It was also said that the king was critical of his daughter marrying such a commoner, even though he himself had done so. The difference being the financial status of Queen Silvia's family and Daniel Westling.
Eventually, however, Victoria and Daniel proved to not only the Swedish royals but also to the entire country of Sweden, that their love was here to stay. The public will never know which struggles the couple had to endure behind closed doors to finally be accepted and later on approved to marry in, but one can only imagine.
In 2010, Victoria and Daniel were married. And with that, set a new standard, pushed boundaries and inspired acceptance, and inclusiveness, among the European royals, inspiring not only her own sibling Prince Carl Philip when marrying former reality show star Sofia Hellqvist, but also perhaps even Prince Harry in his struggle to have his love for American actress, Meghan Markle, fully accepted by his family and country.
Crown Princess Victoria and Prince Daniel's story truly does show that love conquers all. Including disapproving in-laws, even when they happen to be a king and queen.
Below you can see Daniel Westling's speech at his and Victoria's wedding.
This article was originally published on March 20, 2019