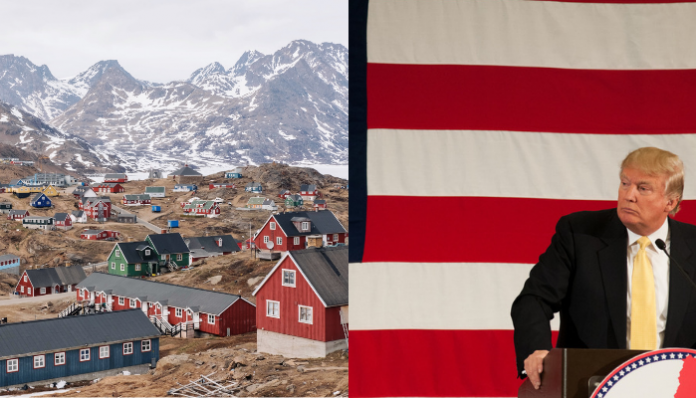 After the A$AP Rocky scandal, it seems like Donald Trump is involved in another strange incident with a Scandinavian PM. 
READ: Donald Trump Bashes Swedish PM on Twitter as Former PM Steps In To Teach Him A Lesson In Democracy
Earlier this week, US President Donald Trump "expressed interest" that he wanted to buy Greenland, according to the New York Times. 
Why? One reason might be the fact that Greenland has some of the largest deposits of rare-earth metals, including neodymium, praseodymium, dysprosium, and terbium, along with uranium and byproducts of zinc.
The idea isn't new, either: the US offered Denmark $100 million USD to buy Greenland in 1946 after the idea of a land swap with Alaska was rejected.
However, not everyone is on board with the decision. Case in point: the Danish Prime Minister.
Speaking on Sunday during a trip to Greenland, Prime Minister Mette Frederiksen called purchasing the island, which is a semi-autonomous part of Danish territory, "an absurd discussion."
"Denmark is a very special country with incredible people, but based on Prime Minister Mette Frederiksen's comments, that she would have no interest in discussing the purchase of Greenland, I will be postponing our meeting scheduled in two weeks for another time," Mr. Trump said.
A few hours later, the meeting was officially called off. "At this time, the visit to Denmark is canceled," Judd Deere, a White House spokesman, told the New York Times.
The next day, Trump hit back even harder at a press conference.
Speaking to reporters on the White House lawn on Wednesday afternoon, Mr. Trump took offense at Ms. Frederiksen's remarks.
"I thought that the prime minister's statement that it was absurd, that it was an absurd idea was nasty. I thought it was an inappropriate statement. All she had to do is say no, we wouldn't be interested."
"She's not talking to me. She's talking to the United States of America. You don't talk to the United States that way, at least under me."