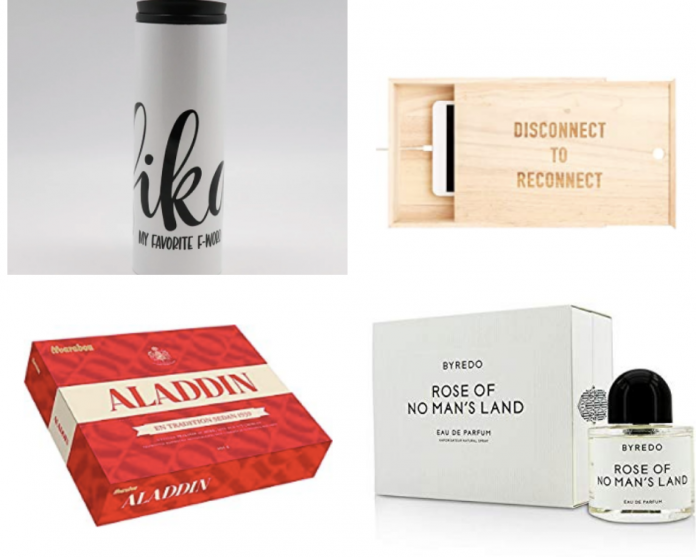 Our editors and team are constantly asked to recommend Nordic products, companies, and brands that allow us to bring a little piece of our old home into our new home. We decided to gather the troops and pen down our favorite items and brands just in time for the Christmas shopping. If you want to give that special someone a Scandi-related gift for the holidays, this list is all you need.
Love, STHLM Fika mug

We discovered this cute travel mug during our Instagram take over by Love, STHLM and decided "why not?" Let's give it a try!

Since then, not a single day has passed without it being used. Not only is it sleek, minimalistic and super-Swedish but it also makes being sustainable even more fun! Perfect gift for practically anyone who enjoys a drink on the run wants to keep it warm in the winter cold and help reduce plastic/paper waste.

This tumbler has been tried and tested by us personally, and is voted our top gift for the year!

You can get it here!
---
Happy Plugs

In a world where splurging on wireless earplugs has become perfectly acceptable, how about investing or gifting earplugs that are not only a lot less expensive, sleeker in design and Swedish? Yes, the company Happy Plugs can be found worldwide, and everywhere, and will definitely make you a lot cooler than the AirPod gang!
---
Skincare

We're not here to brag, but we are going to brag just a little. The Nordic countries are great at skincare. Strict laws, a demanding market and an abundance of nutrient-rich resources keep the Nordic brands always performing at their best. If you want to gift someone special luxurious skincare, we recommend trying the brand Verso. For a more wallet-friendly option, we recommend the brand Maria Åkerberg. The Papaya Peeling and the Serum C are the cult favorites. Consider purchasing your Maria Åkerberg products at Afzelius Health & Beauty to support a small Swedish business based in the U.S.

Not skincare but fragrance. The Swedish brand, Byredo, makes some of the most luxurious and amazing perfumes. We especially love Rose of No Man's Land and Bal d'Afrique.
---
Design

What is a Scandinavian wishlist without at least one design item? Not a lot. So we added our 3 favorite design items. All very typical items in the Scandinavian home. We are particularly big fans of the Paris Carafe from the brand Department and this very cool 50s inspired water boiler from Smeg. We also fell in love with these posters. A great gift for someone who might be missing home.
---
A box for phones

Hear us out! We had to do it! It was voted the gift of the year in Sweden, so we had to include it on our list as well. And honestly, it serves a great purpose. In a world where we are constantly facing screens, one time that should be entirely screen-free is while we go to bed. So why not get a box right outside the bedroom, and leave all the phones there overnight.

You can get this cool box here!
---
Gift Cards for Charity
Donating to a charity that your friend/family member/partner holds dear to their heart in their name is one of the most unselfish and pure gifts you can give this holiday season.
---
Scandinavian candy

Seriously, no one, NO ONE, can or will ever be unhappy receiving Scandinavian candy as a gift. We made a list here with all the candy you can get on Amazon but let us also recommend the Aladdin and Paradis chocolate boxes. These chocolates have been classics in the Swedish households for ages.
---
Airfare Gift Cards

Honestly, being away from family and friends can be really hard. And sometimes tickets can be so expensive that you won't really be able to see them as often as you would like. How about chipping in and giving them a gift card to any airline that will take them to you. Booking.com has gift cards for purchase, which makes gives the receiver of your gift the freedom to choose which airline they want to travel with.
---
Books/ Audiobooks

Ernest Hemingway once said," There is no friend as loyal as a book.". Let's hope we're all surrounded by the most loyal of friends and let's give them the gift of knowledge. Cliché? Maybe. But still very true. If you are not sure which books to give them, why not gift them with an Amazon Audible membership, so they can pick and choose between thousands of audiobooks with 3 free books every month included in the membership.
– this article contains ad links-
Consider supporting Swedes in the States