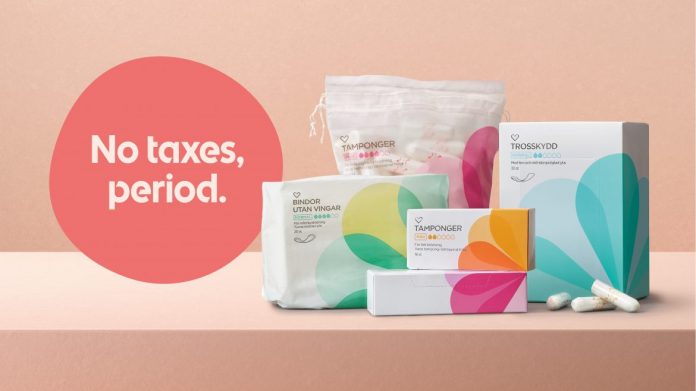 For many females around the world, feminine hygiene products are a necessary part of life — and also one of the most expensive.
A recent research article found that three Scandinavian countries — Sweden, Denmark, and Norway — have some of the highest "tampon tax" percentages in the world at 25%. Hungary tops the ranking at #1 with the highest tax being 27%. 
"Tampon tax" is a popular term that is used for the fact that tampons—and other feminine hygiene products—are subject to value-added tax (VAT) or sales tax, unlike the tax exemption status granted to other products that are considered to be basic necessities.
So, for example, if a pack of tampons costs 50 Swedish Kroner (about $5 USD), women are paying an extra 12.5 SEK ($1.25USD) simply because it is a feminine hygiene product and therefore taxable under the 25% rate. 
Of course, this has not gone under the radar for many women around the world: recently, a campaign in Germany saw feminine hygiene products fall from a 19% to a 7% tax because it was deemed as a "necessary" item by Parliament and therefore taxed at a lower rate. 
"The higher tax rate on these products amounts to fiscal discrimination of women, based on their sex, which is not allowed by the Constitution," state Nanna-Josephine Roloff and Yasemin Kotra, who started the movement in Germany to lower the tax.
Kenya was the first nation to stop taxing menstrual products in 2004, in part because millions of women and girls in the country could not afford these products. Canada dropped its tax in 2015, and Australia, India, and Malaysia followed suit in 2018.
Likewise, there is a global movement for feminine hygiene products to be provided for free to women in public institutions such as schools, hospitals, prisons, and office buildings.
Some Swedish schools and regions have introduced similar policies. A school in Norrköping began offering free menstrual hygiene products in February after the policy was brought into some schools in Uppsala some years ago. The products are also available for free at health care centers and schools in Österåker municipality for all girls and women between the ages of 12 and 23.
In Sweden, there was even a public advertising campaign by one of the country's most popular pharmacies, Apotek Hjärtat, to lower the price of all feminine hygiene products by 25% in an effort to level the tampon tax. 
"Because no woman should have to pay tax on her period. Period." 
What do you think of the "tampon tax"? Should it stay or should it be lowered? Let us know in the comments below!
Featured image: Apoteket Hjärtat