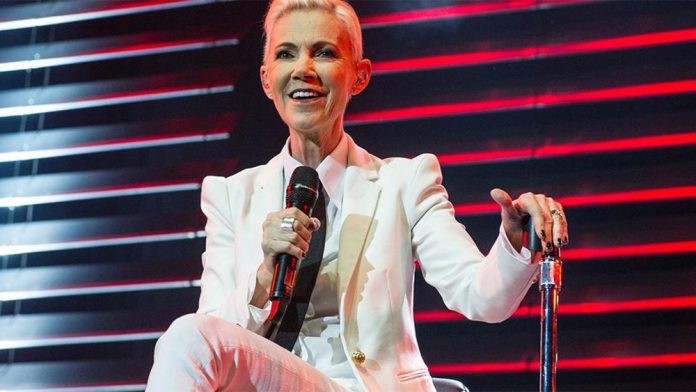 It's a sad day for fans of Roxette around the world, as one half of the popular pop-rock duo has passed away. 
Marie Fredriksson, who founded Roxette in 1986 alongside Per Gessle, passed away on Monday morning at the age of 61, following a battle with a brain tumor.
"It is with great sadness that we have to announce that one of our biggest and most beloved artists is gone." Marie Dimberg, her manager, wrote in a press release.
The singer, who was known for hits such as "Listen to Your Heart", "It Must Have Been Love", and "Fading Like a Flower (Every Time You Leave)" was surrounded by friends and family in her last moments. 
Condolences have poured in from around the world, including from Per Gessle, the other half of Roxette:
Time goes by so quickly. It's not that long ago we spent days+nights in my tiny apartment sharing impossible dreams. And what a dream we eventually got to share! I'm honoured to have met your talent+generosity. All my love goes to you+your family. Things will never be the same. pic.twitter.com/CTegAUGrXG

— Per Gessle (@PartyPleaser) December 10, 2019
Gun-Marie Fredriksson was born on May 30, 1958, outside a village called Össjö in Sweden. 
Her love of music began at an early age when she and her siblings would stay at home while both parents were working. During this period, she would learn how to sing, read notes, and play musical instruments. 
Her interest in music continued to grow throughout her teens, as she discovered and listened to artists such as The Beatles, Joni Mitchell, Jimi Hendrix, and Deep Purple. She enrolled in a music school in Svalöv at the age of seventeen and later moved to Halmstad, where she became involved in the local indie music scene.
After being involved in few bands, Marie met Per Gessle and started Roxette, one of Sweden's most internationally successful bands ever. The group has sold over 75 million records worldwide and topped the US Billboard list four times. Roxette has had a total of 19 songs on the British Top 40 list.
In addition to Roxette, Marie Fredriksson has had a successful solo career since the early 1980s. 
Marie is survived by her husband, keyboardist Mikael "Micke" Bolyos, and two children: a daughter named Inez Josefin and a son named Oscar.