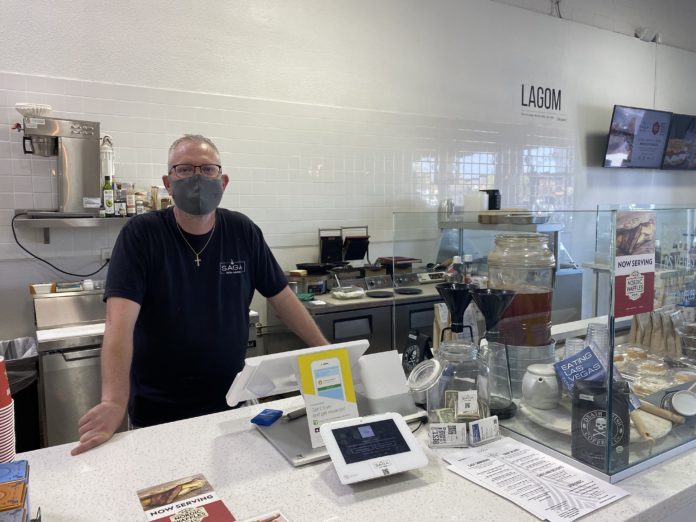 This article is made possible thanks to the valuable support of Glenn and Deborah van Helén at Hygiene of Sweden. This article was originally published October, 2020.
If you are a fan of the Scandinavian cuisine, chances are you haven't missed the appetizing pictures of waffles and sandwiches from Saga Pastry + Sandwich on Instagram. The small restaurant opened in Henderson, Nevada two years ago, and is the heart project of Norwegian chef, Gert Kvalsund. 
I was passing by Las Vegas on a personal trip to get away from the unhealthy air from the fires raging in SoCal and decided to pop by Saga Pastry + Sandwich after months of curiosity stemming from the social media buzz around this place.
Saga Pastry + Sandwich has quite the unassuming front, in no way would you think that some of the best Skagen toast or shrimp sandwiches could be found here – a true hidden gem.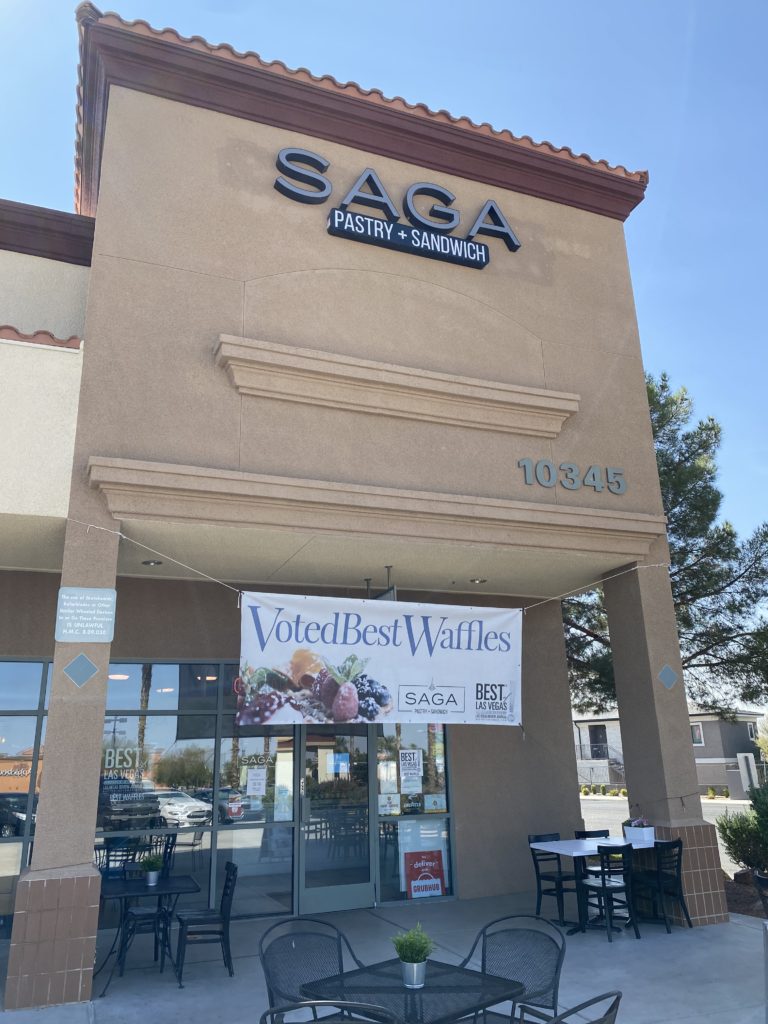 I walk in and introduce myself to Gert, who is standing behind the bar preparing a sandwich for a customer. The space is designed in a typical Scandinavian minimalistic way, with all the well-known Scandinavian expressions like Hygge, Fika, Lagom, and Koselig printed on the walls.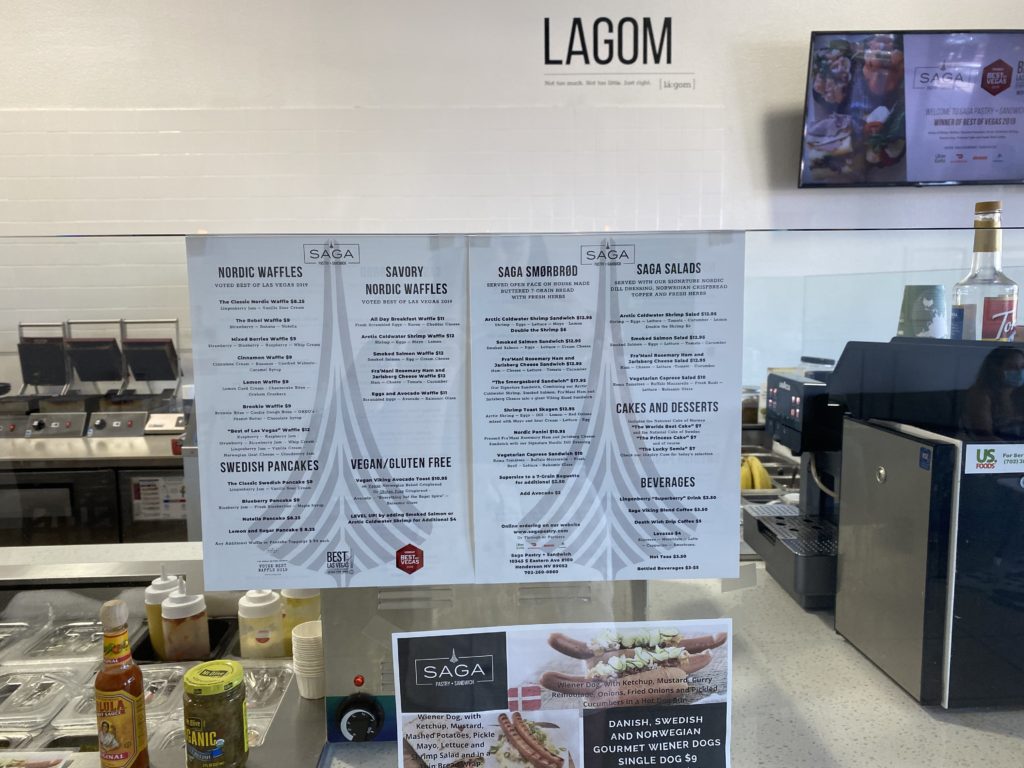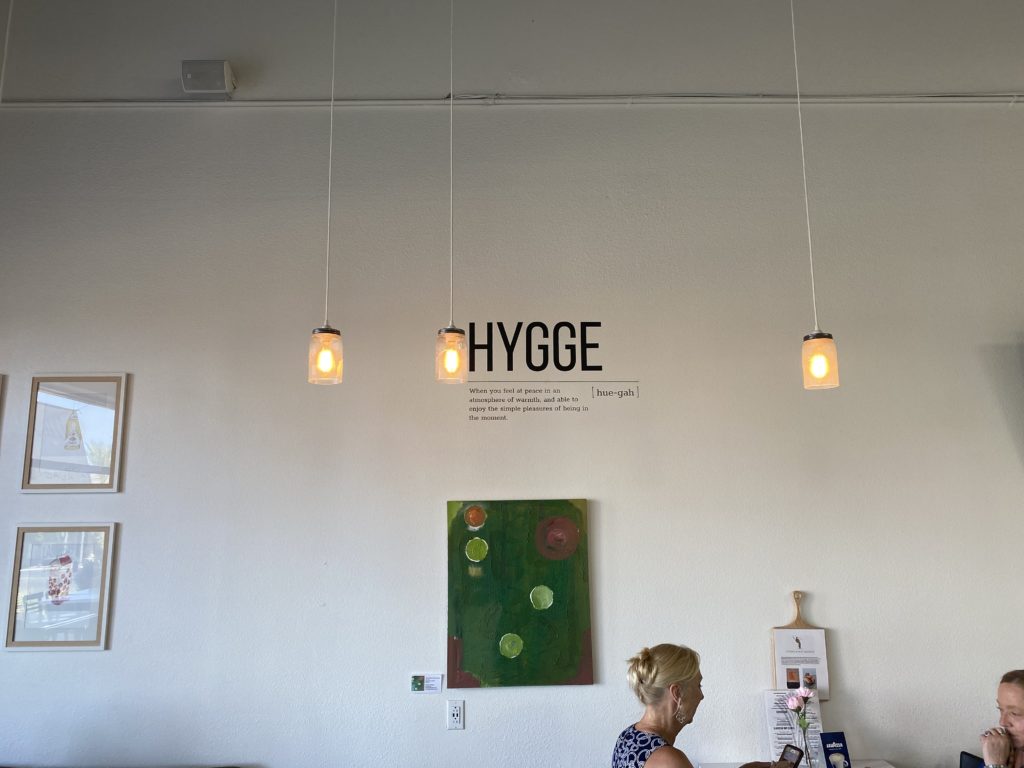 As a Swede, my first instinct was to order every single item on the menu but for the sake of Swedes in the States budget, I asked him for his recommendations. He suggested I order the Shrimp sandwich, which I gladly did, but with the extensive menu staring back at me, I just couldn't stop at that. So, I went ahead and ordered the Skagen toast, Nordic waffle, semla, and lingonberry drink as well.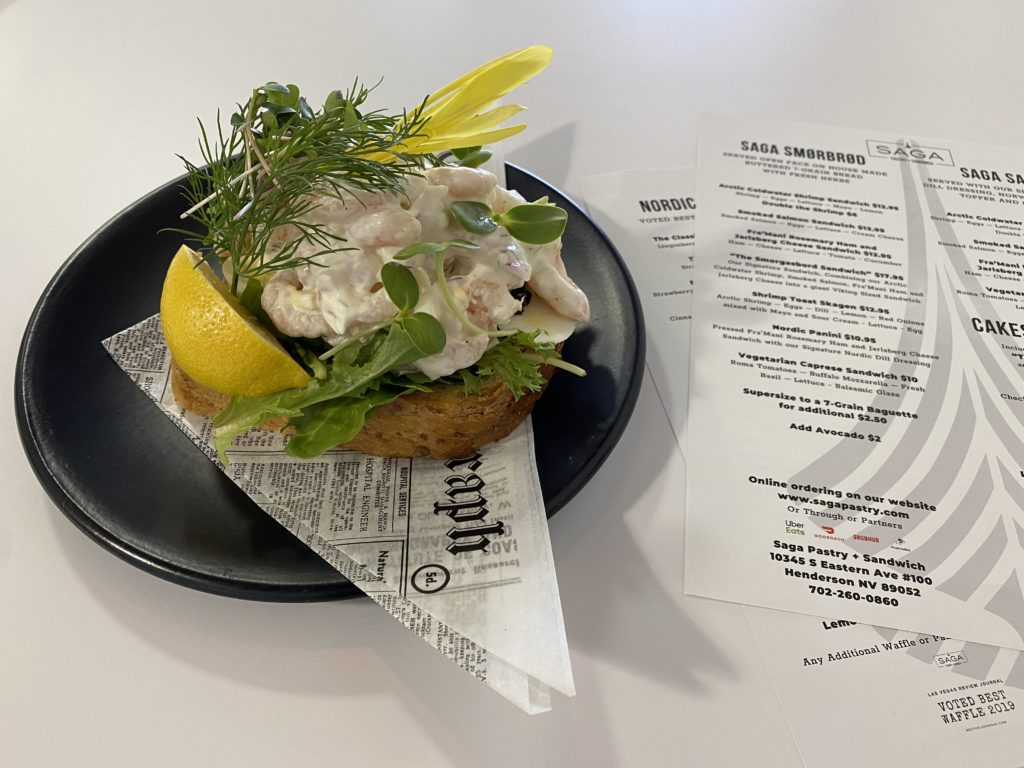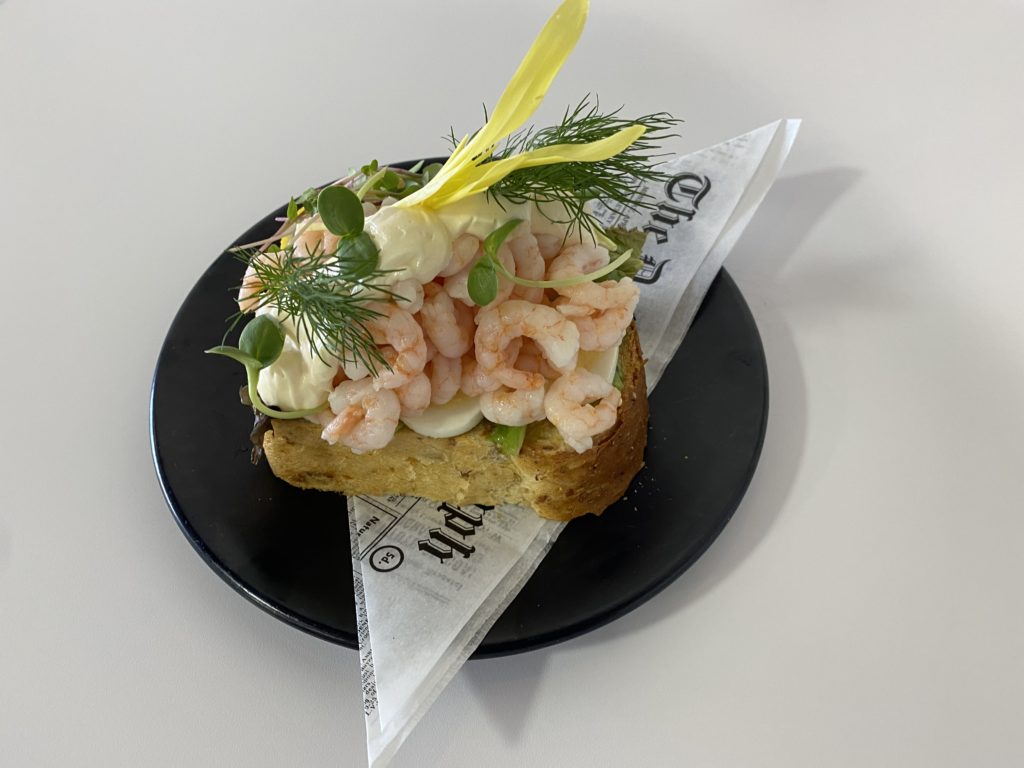 Two bites into my toast Skagen, there was no doubt in my mind that Gert was a trained chef. I guessed it before he even had the opportunity to tell me. I was equally ecstatic over the shrimp sandwich. It is without the slightest overreaction that I say that this is the best Swedish shrimp sandwich, räkmacka, and Skagen toast I have had in a long time.
I am not the only one who has been absolutely swept away by the food here. Saga Pastry + Sandwich has been recognized by Las Vegas Weekly Magazine as the 2019 Best New Restaurant in Vegas and Best of Vegas "best intro to Scandinavia", voted The Best Waffles in Las Vegas by the readers of Las Vegas Review-Journal, and even been hailed by the famous food critic, John Curtas. 
Gert has added a culinary twist to the waffle and semla, which I, at first, was a bit skeptical of. Instead of using whipped cream, which I believe most Scandinavians would be used to adding in these dishes, Mr. Kvalsund works with a homemade vanilla cream cheese. I even asked for whipped cream on the side, confident that it just wouldn't taste authentic enough without, but lo and behold, the whipped cream went in the trash can and wasn't used at all. These flavor bombs tasted exactly like I would have expected them to, but better.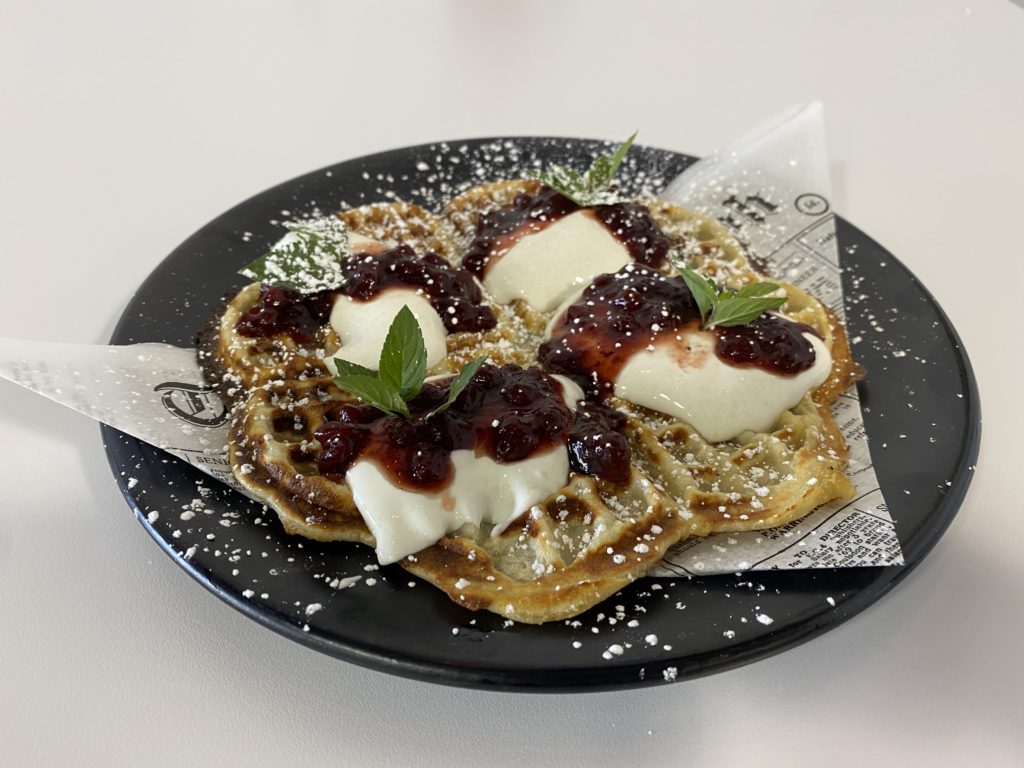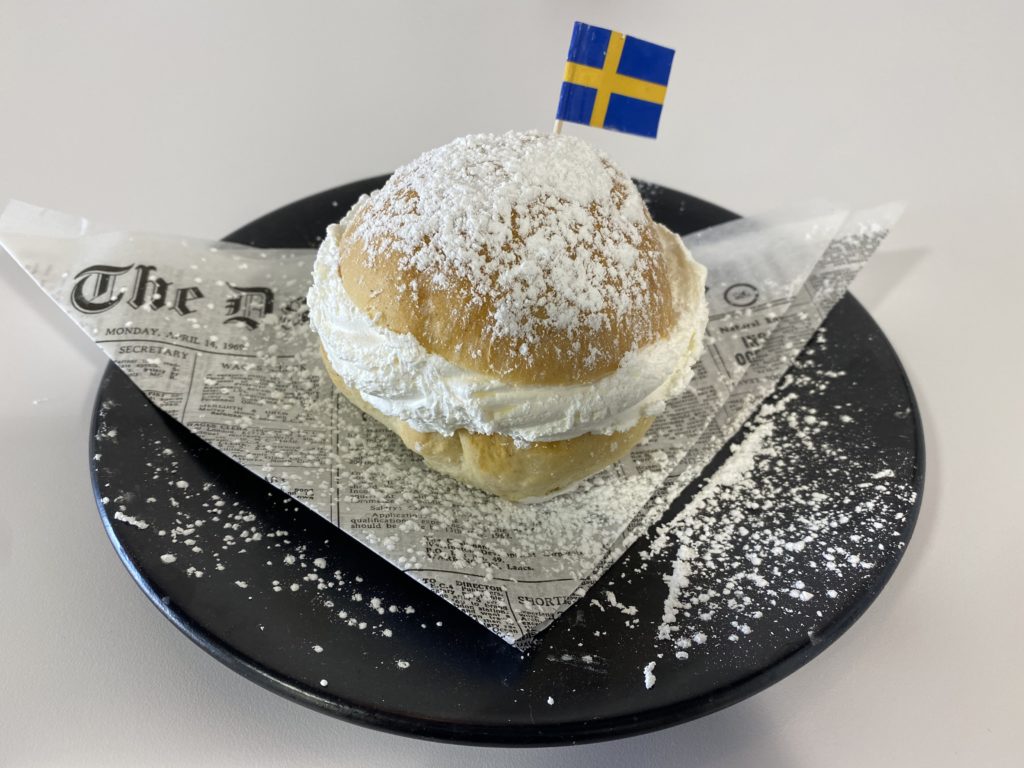 Bloated and delighted, I had a quick chat with Gert who told me about his story in the United States, his journey from Lillehammer in Norway to Las Vegas, and his vision for Saga Pastry + Sandwich. Be on the lookout for the interview, this guy has a story to tell.
I left with a bag of Saga Pastry's own coffee, which not too surprisingly was just as delicious as everything else I had inhaled at the restaurant.
Gert Kvalsund truly runs a treasure in the heart of Nevada. A restaurant with amazing, clean, and healthy Scandinavian food. I honestly can't think of a better way to pay tribute to our countries, than sharing our food with our new homeland. But like so many other restaurants, Saga Pastry has been hit hard by the impact of the pandemic. When asking him how he had fared during the quarantine he told me that it was hard: "Saga Pastry + Sandwich might not survive this roadblock.", he told me.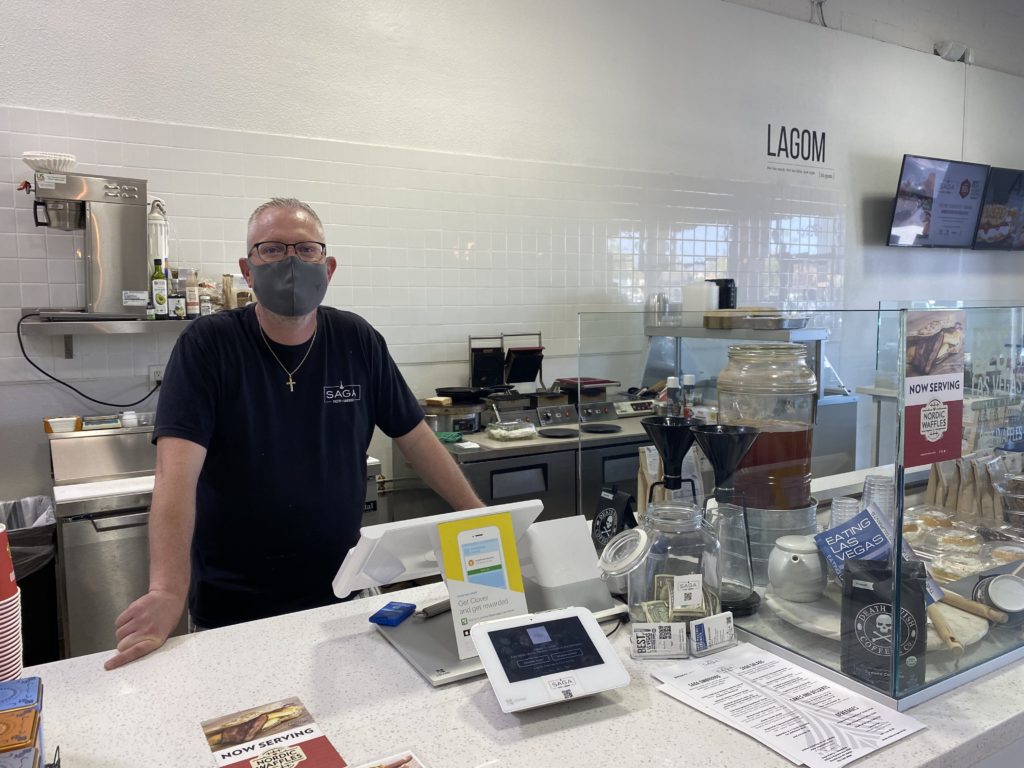 If you or someone you know run a Nordic restaurant and is struggling from the impact of the pandemic, please do not hesitate to get in touch with the Swedes in the States team through our social media or email.