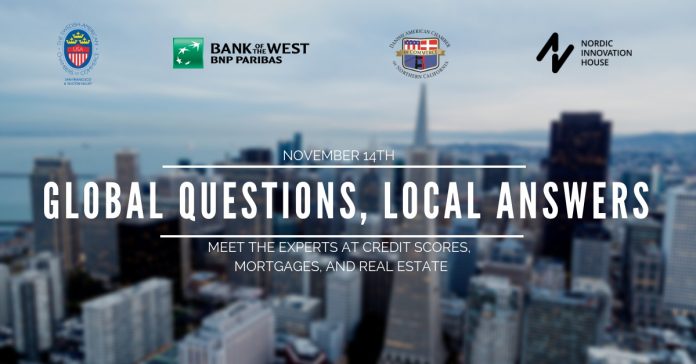 Swedish American Chamber of Commerce- San Francisco/Silicon Valley's  "Global Questions, Local Answers" is aimed at answering your questions related to being a global citizen in the SF Bay Area.
About the topic:
Many of our members struggle with the same types of issues: 
– How do you handle banking, taxation, immigration, financial planning, healthcare, real estate if you are new to the US?
-How do you handle that inheritance you will be getting from Sweden? 
-Are there tips for getting acclimated to the Bay Area business culture or tips for dealing with cross-cultural issues?
Each Global Questions, Local Answers workshop focus on a particular theme. On November 14th we welcome you to a panel discussion with experts on credit scores, mortgages and real estate. The event is held in a smaller, interactive boardroom style format that allows maximal interaction between the attendees and experts. Have your questions answered and gain comprehensive knowledge from these experienced professionals.
Our experts:
Adrian Millen- Vice President Sr. Business Development Officer international Banking Group, Bank of The West
Adrian has expert knowledge about why you need a credit score and how it is used.
Karen McDowell- Private mortgage banker, Bank of The West
Karin is an expert on the steps included in the process before, during and after taking a mortgage.
Mariana Pappalardo, Realtor, Alain Pinel Realtor
Mariana is an experienced realtor and has crucial knowledge about real estate and the market in SF Bay Area.
Agenda
6-6:30 Arrival and mingle
6:30-7:15 Panel discussion
7:15-8 Mingel and snacks
The seats to this event are limited, make sure to register in advance!
See you there!
WHEN
6:00 pm – 8:00 pm, 14th of November, 2018

WHERE
Nordic Innovation House
470 Ramona Street
Palo Alto, CA 94301
For tickets: https://www.eventbrite.com/e/global-questions-local-answers-tickets-50784535914