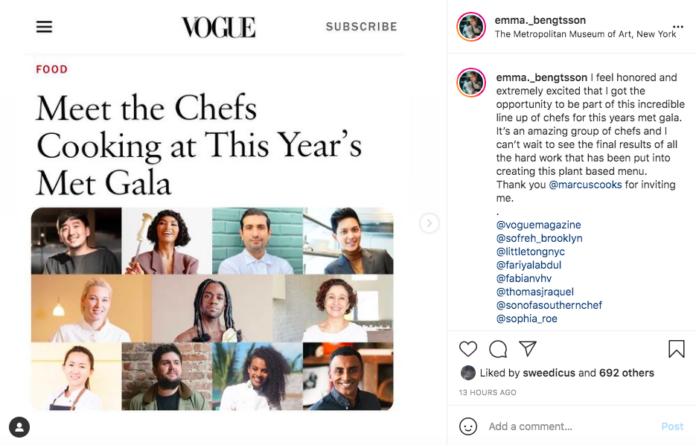 Sweden has two reasons to be proud of the line-up of chefs at this year's Met Gala – and they are named Emma Bengtsson and Marcus Samuelsson.
Swedish top chef, Marcus Samuelsson, who currently lives in New York and is the founder and restaurateur behind the successful restaurant concepts like the Red Rooster & Marcus, was given the job to put together a line-up of chefs for 2021's Met Gala. According to Vogue.com, the menu will be entirely plant-based with a focus on sustainability. Each chef will be contributing to the menu with their own interpretation of regional American cuisine.
In a post on his Instagram, Marcus Samuelsson writes:
"I am so excited to present this talented group of incredible New York-based chefs who are each contributing a plant-based recipe to @VogueMagazine #MetGala that reflects their unique take on modern American cuisine. Please welcome this year's #MetGalaChefs: Fariyal Abdullahi, Nasim Alikhani, Emma Bengtsson, Lazarus Lynch, Junghyun Park, Erik Ramirez, Thomas Raquel, Sophia Roe, Simone Tong, and Fabian von Hauske!"
 

 

View this post on Instagram

 
Chef Emma Bengtsson comes with quite the list of achievements herself. She is currently the Executive Chef at the Scandinavian, two Michelin star restaurant, Aquavit, in Manhattan, New York. If heading the top Scandinavian restaurant in the United States wasn't enough, Emma Bengtsson is also the first Swedish female chef to have received two Michelin stars, and the second female chef to have received two stars in the United States. For anyone who has had the pleasure of dining at Aquavit, this probably comes as little surprise.
In a post on her private Instagram, Emma Bengtsson writes:

"I feel honored and extremely excited that I got the opportunity to be part of this incredible line up of chefs for this years met gala.
It's an amazing group of chefs and I can't wait to see the final results of all the hard work that has been put into creating this plant based menu.
Thank you @marcuscooks for inviting me."
Featured image: Screenshot from Chef Emma Bengtsson's Instagram account @emma._bengtsson