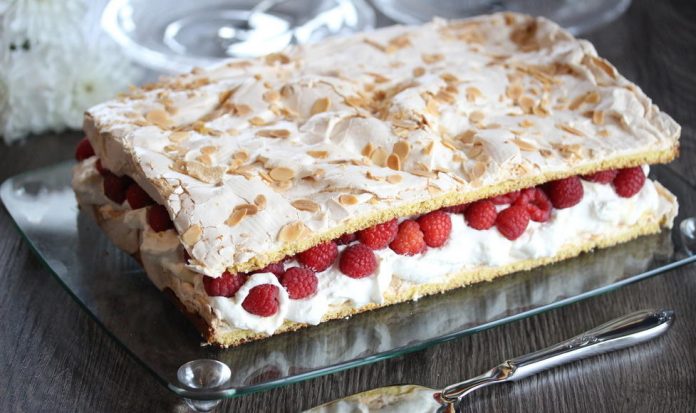 READ: This Is How & Why Norwegians Celebrate 'Syttende Mai'
The Scandinavians are known for their pastries and cakes. But did you know that the Norwegians claim to be the inventors of the best cake the world has ever seen? Called 'Verdens Beste Kake' (World's Best Cake) or for when they are feeling humble, Kvæfjordkake.
We decided that you deserved to see for yourself, so we translated a recipe for you! What do you think? Could it be the best cake in the world?
Ingredients for the cake:
100 g butter
100 g sugar
4 egg yolks
1 tsp baking soda
2 tsp of vanilla sugar, or sugar mixed with vanilla seeds 
100 g of flour
4 tbsp milk
Ingredients for the meringue:
4 egg whites
175 g of sugar
Ingredients for the filling:
1 1/4 cup of whipping cream
2 cups of vanilla cream (vaniljkräm) or vanilla pastry cream. Recipe here. 
Raspberries (as much as your heart desires)
Topping:
Flaked almonds
Raspberries
Instructions
Preheat the oven to 175°C / 350°F
Using a mixer, blend together the butter and the sugar in a bowl. When mixed, add the egg yolks one at a time. Make sure that everything is nicely blended together.
Add in the flour, baking powder, and vanilla powder through a sifter to make sure that there are no lumps in the batter. Fold the ingredients together while adding the milk.
Prepare a pan (about. 30 x 40 cm or a 4-inch rectangular pan) by placing parchment to cover the bottom and the sides, and then pour the batter into it. Spread the batter evenly. Put to the side to rest while you make the meringue.
Whisk the egg whites together in a new, clean bowl until soft peaks form. Add sugar and keep whisking until the mixture turns becomes stiffer. Spread the meringue mix over the cake mix in the pan and sprinkle with almond flakes.
Bake in the middle of the oven at 175°C / 350°F for about 25 minutes. After the cake is done baking, take it out of the oven and set to the side to cool while you prepare the filling.
Whip the cream until it is stiff and then fold in the vanilla pastry cream (vaniljkräm). You can buy the typical Scandinavian cream in some deli stores, in some IKEA's or you can make your own. Recipe here.
To assemble the cake, start by cutting it in half. Spread the cream mixture on one half, sprinkle raspberries over the cream and then put the other half on top of it. Let the cake rest in the fridge for about an hour before serving.
Enjoy!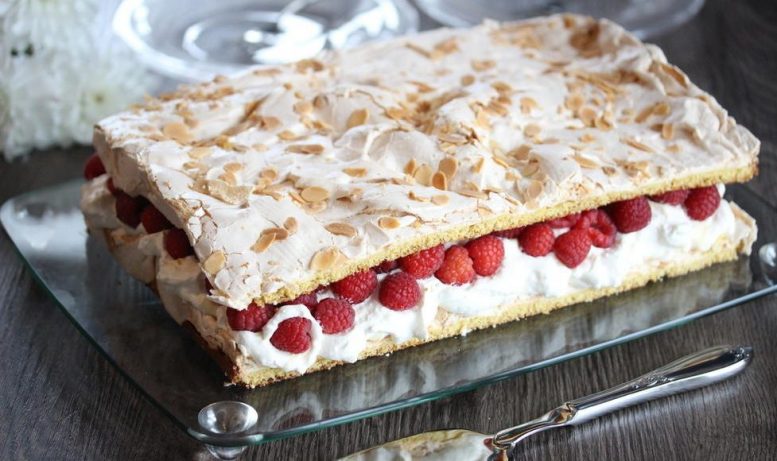 Featured image & inspiration for the recipe is borrowed from:
https://www.godt.no/oppskrift/1727/kvaefjordkake-verdens-beste
This article was originally published on May 20, 2019.