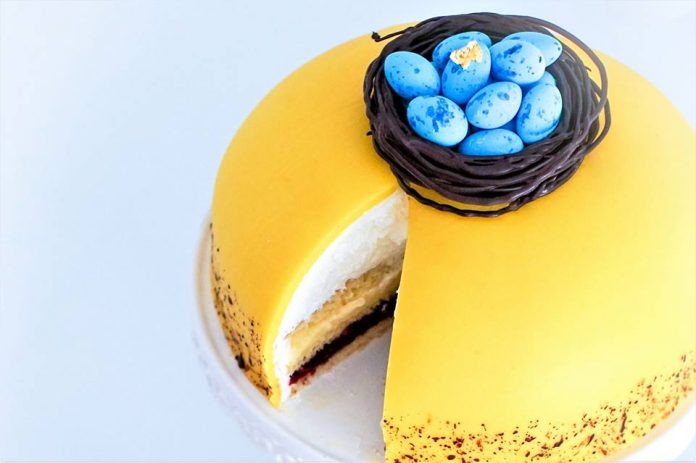 This article was originally published on April 16, 2017. The recipe is from Eve's Fika.  
Happy Easter everybody! No matter where you are, I hope you have a wonderful holiday with family and loved ones.
To celebrate this year, I did an Easter-inspired take on a truly classic Swedish dessert, Prinsesstårta (Princess Cake). In Sweden this is our go-to cake for any big celebration – birthdays, graduations, weddings, you name it. For me, it tastes like home and brings back so many happy memories with family and friends.
Oh, and it's amazing.
Princess cake is different from your typical buttercream cake. Between layers of light, airy base (often with a hint of orange or lemon zest) you'll find raspberry jam and vanilla custard. On top of that you have a thick layer of whipped cream. And if that's not enough, the whole thing is covered with marzipan.
Typically, princess cake is green or pink and decorated with a small marzipan rose. I made mine yellow, and instead of the traditional rose, I built a bird's nest out of layers of chocolate. I then added chocolate candy eggs to the nest with a touch of gold leaf. As a finishing touch, I speckled chocolate around the base of the cake to mimic a bird's egg.
You'll find a recipe and a step-by-step guide for the Princess cake below. It takes a little effort, but it's so worth it. As we say in Swedish, Lycka till (Good luck)!
Cake base
from Buffé
4 eggs
180 g sugar
60 g flour
80 g potato starch (Bob's Red Mill carries it)
1 tsp baking powder
zest from half a lemon
zest from half an orange
butter and flour for the cake pan
Directions:
Preheat oven to 345 degrees.
Butter and flour a 9 inch springform pan.
Whip eggs and butter with until fluffy, about three minutes.
Mix flour, potato starch and baking powder in a bowl.
Sift the flour mixture into the egg mixture. Add the zest. Gently fold with a spatula until a smooth batter.
Pour the batter into the prepared pan. Bake in the lower part of the oven for about 30 minutes.
Let cool before slicing into three layers.
Raspberry jam
500 g frozen or fresh raspberries
270 g sugar
Directions:
Pour berries and sugar into a saucepan. Over medium heat, bring to a boil and let boil for about 10 minutes. Pour into a bowl and let cool.
Vanilla Custard
from Leila Lindholm

500 g milk (3%)
1 vanilla pod
135 g sugar
7 egg yolks
40 g corn starch
50 g butter, softened
Directions:
Split the vanilla pod in half, scrape out the seeds and put both seeds and the pod in a sauce pan with the milk. Bring to a boil.
Whip the egg yolks with sugar and corn starch. Pour in the hot milk, while whisking.
Pour the mixture back into the pot and carefully heat the liquid, while whisking. As soon as the vanilla cream has started to thicken, take the pot off the heat and pour the crème into a cold bowl.
Add the butter, stir until fully melted, and let it cool in a refrigerator. Stir occasionally to prevent a skin to form.
500 ml heavy whipping cream
1,5 tsp vanilla sugar (small bags by Dr. Oetker sold in many grocery stores by the spices section)

Start whipping the heavy cream, and add the vanilla sugar halfway through. Make sure that the whipping cream is not too lose or too firm. It is made just right when you can turn your bowl upside down and the whipped cream doesn't move.


600 g marzipan (sold in baking isles by brand Odense)
A couple drops of gel food coloring

Knead the marzipan and add the food coloring. Continue to knead until the color has been fully incorporated. Cover the marzipan in plastic wrap until ready to use.
To make the Princess cake:
1. Using a sharp knife, divide the cake into three layers. Insert the knife in the side and gently work your way around the cake until you've reached full circle.
2. Spread the jam on the bottom layer.
3. Place another cake layer on top of the jam. Spread a generous amount of vanilla custard on top.
4. Add a third cake layer, and top with whipped cream.
5. Once cake is covered, add extra cream on top to create a dome.
6. Make sure the surface of the whipped cream is smooth. This will help you layer the marzipan evenly. Let the cake chill in the fridge for 15 mins to set.
7. In the meantime, melt dark chocolate over a water bath or in the microwave. Using a pastry bag (or ziplock with a hole cut in one corner), pour the chocolate into circles on parchment paper. Refrigerate until set, approximately 10 minutes.
8. Color the marzipan with a color of your choice. Using a rolling pin, roll out the marzipan on a non-stick surface (I use a silicone mat). Remove the cake from the fridge, and cover with marzipan.
9. Gently press down the sides of the cake, making sure to smooth out any bumps. I like using disposable gloves, so my hands don't stick to the marzipan.
10. Trim the edges of the cake using a sharp knife.
11. To make speckles, mix powdered cocoa with a little water, and using a clean paint brush, splatter onto the bottom of the cake. You should cover up with parchment paper any part of the cake you don't want speckled.
12,  Remove the chocolate from the fridge, and stack them on top of the cake, to create a bird's nest. Fill the nest with chocolate candy eggs.
Happy Easter, and Glad Påsk!