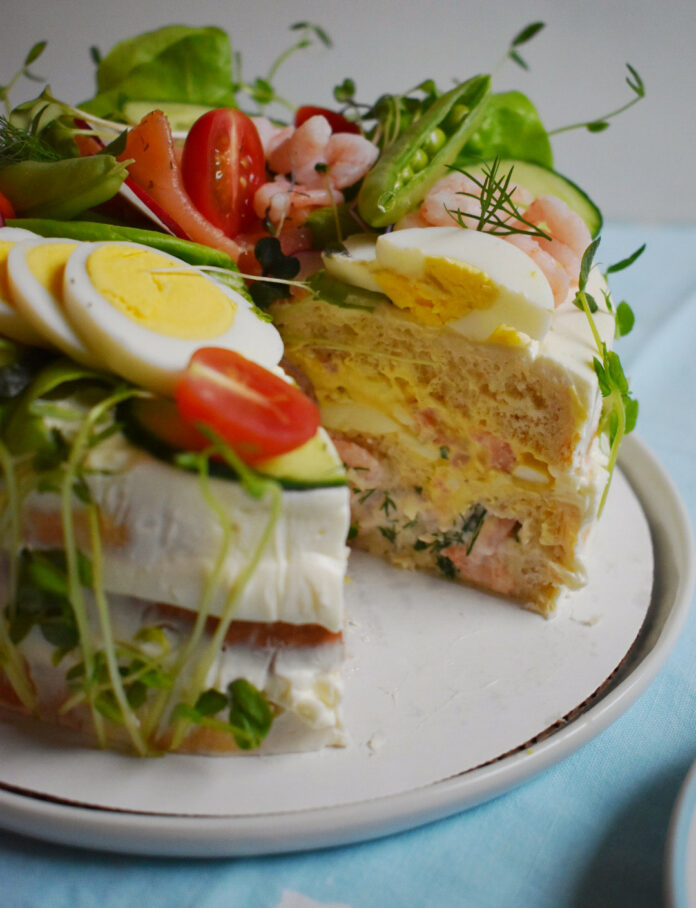 This recipe is written by Ingrid Schatz in collaboration with Axelsdotter Bakery. For questions or feedback, email axelsdotterbakery@gmail.com
Smörgåstårta is one of my favorite things ever and is so underrepresented in Swedish food culture internationally. Everyone knows of meatballs, makes faces when trying herring, and raves over the candy but this perfect celebration food is never talked about. Many where I live never knew that it even was a thing. A cake that's a sandwich? What?
Creativity is key here and there are so many ways that you can go with the fillings and the toppings. I am a huge fan of potato chips in sandwiches (gotta have that crunch!), so why not put some on top? Or say you don't really like seafood – maybe you can make a version based on the open-faced meatball sandwich? The choices are as endless as there are types of sandwiches.
Sandwich cakes are amazing, relatively easy to make, and delicious but it is easy to go too heavy on key ingredients and it turns this into a very rich and filling treat. My version uses a simplified Skagenröra filling, and egg salad filling, and lots of fresh greens and veggies to add flavor and interest. By keeping it light and using greek yogurt and plenty of fresh herbs for flavor you will turn this traditionally mayonnaise-laden celebration into something more modern and so much more delicious.
For the bread:
15oz King Arthur Bread Flour
1.5 tsp Salt
2 tsp Yeast, active dry
1 tbsp Sugar
3 tbsp Olive Oil
1 cup Water, room temp
This is an easy bread to make that produces great results and is endlessly customizable. Want to add some herbs? Do it! Seeds or nuts? Sounds great! Use this as a base and make it your own. It's best to make this the day before because you want to ensure that the bread is totally cooled before assembling the cake.
Weigh out the flour and combine it with all the other ingredients in the bowl of a stand mixer. With the dough hook, mix at a slow speed for about a minute until the dough just starts to form. Increase the speed and allow to mix for 4-5 minutes until the dough is smooth, pulls away from the sides, and forms a tight ball around the dough hook. Transfer the dough to your counter and form it into a ball. Cover with a clean kitchen towel or plastic wrap and allow the dough to rest for about 10 minutes.
I used a cake pan to bake my bread because I wanted a round sandwich cake. Choose your pan based on the shape that you want your cake to be. If you want a rectangular cake, choose a loaf pan. Either way, spray your pan with a cooking spray and shape your dough to fit that pan. For a round loaf, you'll want to roll the dough into a tight ball and press it into the pan. For rectangular, you'll want to form it into a log shape.
Proof the bread on the counter or in your oven on a bread proof setting until doubled in size.
Score the top with a sharp knife to release steam and bake in a 375F oven for about 25-30 minutes. The bread is done when it's golden brown and makes a hollow sound when tapped.
Fillings:
I made two different fillings for this sandwich cake, but you can choose what you like to put inside. I did a shrimp-only version of a Skagenröra and a smoked salmon egg salad. Because Smörgåstårta can be very rich with all the mayonnaise and cream cheese on it, I used some greek yogurt in my fillings to keep it light and less heavy. If you have a local deli that makes fillings that you like and think will work together, by all means, buy it and use it!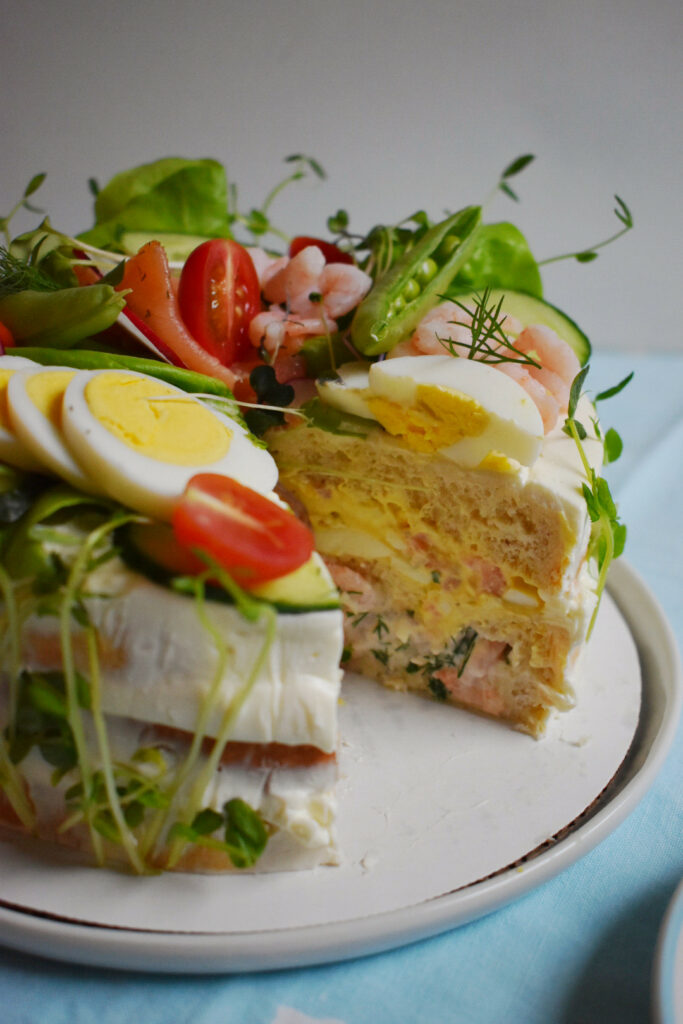 For the Skagenröra
8oz Salad Shrimp, thawed
1 small Shallot, finely chopped
3 tbsp Dill, chopped
1 tbsp Chives, Chopped
A squeeze of Lemon Juice
2 tbsp Greek Yogurt
1 tbsp Mayonnaise
Salt and pepper to taste
Add all the ingredients into a bowl and stir to combine. You don't want your mix to be too wet because it will make the bread soggy so make sure to add the wet ingredients in increments.
Egg Salad
2 Hard-boiled eggs, peeled
2 tbsp Mayonnaise
2 tbsp Greek Yogurt
1 tbsp Chives, chopped
1 slice smoked salmon, chopped small
1 tsp Mustard
Chop the eggs into a small dice and mix with the rest of the ingredients in a small bowl.
Set both of the fillings aside in the fridge while you prepare to assemble your cake.
Assembling the cake:
Yes! You've made it this far and now it's time to assemble the cake!
Choose your serving tray or cake board to assemble your cake on. Once it's assembled, it can't be transferred to another plate or dish without falling apart.
Slice your bread horizontally (like you would when cutting a cake to fill the center), you want fairly thick slices about a half inch thick. You will need three slices to assemble the cake. You are welcome to cut the crust off, but I like to leave it on for some extra texture and when you 'ice' the cake I like to see some of the bread peeking through the 'icing'.
Place your first slice on your chosen serving dish and butter it very lightly. Add your Skagenröra filling and spread it across the slice. Make sure not to spread it too close to the edge of the cake, otherwise some filling may leak out the sides when you are trying to cover it later.
Lightly butter your second slice of bread on both sides and press gently on top of the Skagenröra filling. Add the egg salad, taking the same care not to spread it too close to the edge.
Butter the bottom side of your final slice and place it butter side down on top of the egg salad. At this point, you can wrap the cake in plastic and keep in the fridge while you prepare your toppings and icing. You can store it in the fridge for up to one day before icing and topping it.
For the Icing:
8oz Philadelphia Cream Cheese
2 tbsp Mayonnaise
Add the cream cheese and mayonnaise together in a bowl or a stand mixer and combine until smooth. Spread over the top and sides of the cake to lightly cover. Use a bench scraper or other flat tool to smooth the sides of the cake – don't worry if you can still see the bread crust through it, this will give your cake that naked cake look as well as keeping the cake a little lighter.
Once the cake is iced it's time to decorate it! And really this is the fun part and where you can get super creative. You'll want to include some elements of what's in the cake, but anything goes!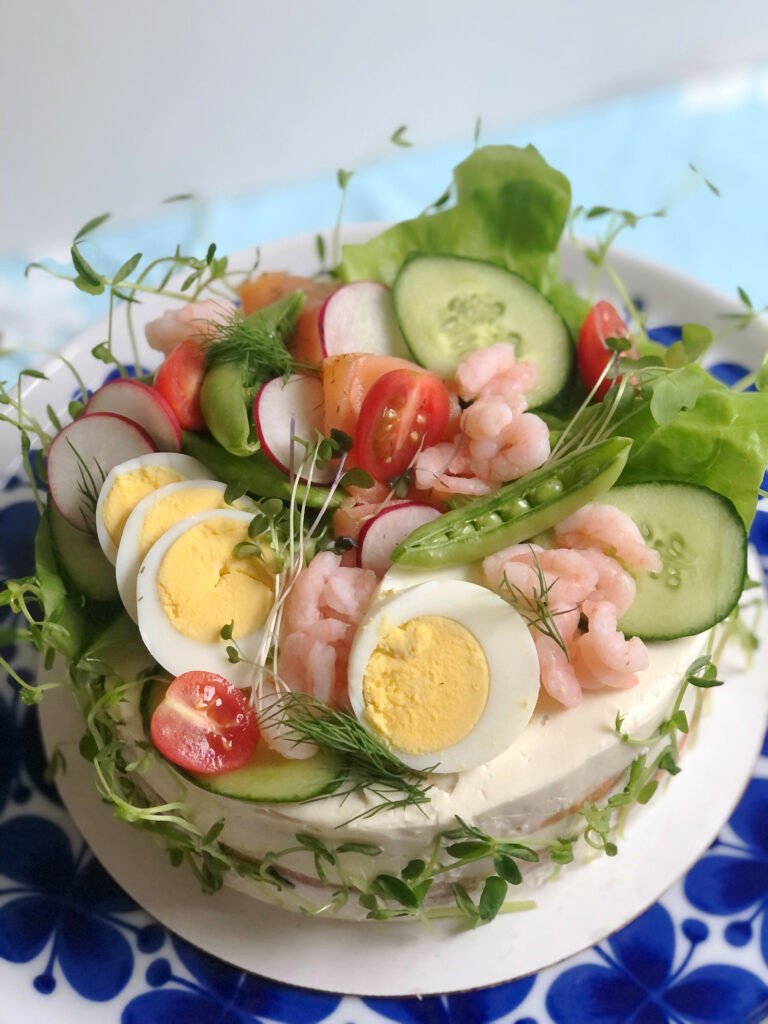 Here's what I used:
Hard boiled eggs, butter lettuce, cucumber slices, salad shrimp, smoked salmon, radish, tomato, sugar snap peas, dill, microgreens and pea shoots for the side.
Other things that would look great too are lemon slices, any fresh herb like chives, edible flowers like nasturtium or chive blossoms, watermelon radish, thin strips of carrot or zucchini.
The cake is best decorated the day that it is intended to be eaten, so that the toppings stay as fresh as possible. Keep refrigerated until served.
Now, sit back, enjoy and bask in the praise your guests heap upon you for your efforts. You deserve it.
Skål!