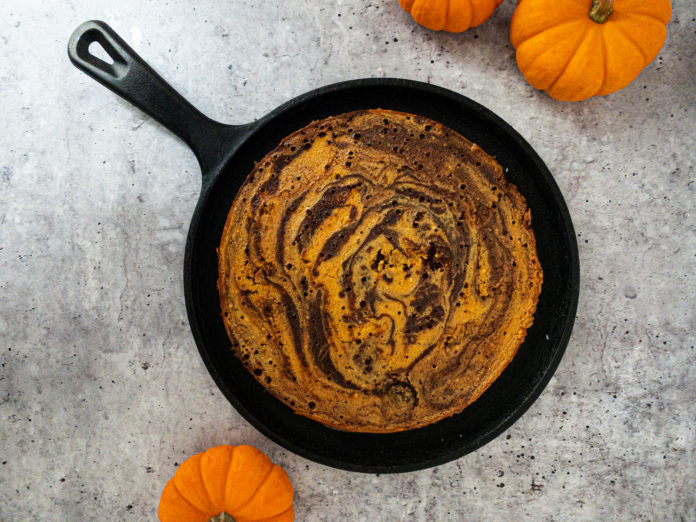 When I think of fika, I don't think of cinnamon buns immediately – I think of Kladdkaka. Probably because it's such an easy and quick thing to make, yet so delicious. For as long as I can remember, this cake has had its given place at the table whenever my friends and I would get together for an after-school or a weekend fika. It's just the kind of cake that exactly everyone loves, and that everyone can make.
This is a fall version, combined with another favorite thing of mine: cheesecake!
It adds another step to the process, but I promise – it's worth it!
Gluten-free, no refined sugar
Kladdkaka
7 tbsp unsalted butter
½ cup almond flour
¼ cup of cocoa powder
2 eggs
¾ cup of coconut sugar
1 pinch salt
1 tsp vanilla extract
Preheat oven to 350 F, and grease a 9 inch springform pan (I also line the bottom with parchment paper, just to be safe).

Melt the butter and set aside to cool. Whisk together eggs, coconut sugar and vanilla extract until smooth.

In a separate bowl, sift together almond flour, cocoa powder, and salt, mix until combined.

Fold flour and cocoa mixture into the egg mixture and stir until just combined. Then fold in the melted butter and stir until completely blended. Pour into prepared pan, and set aside.
Pumpkin Chai Cheesecake
4 oz cream cheese
2 tbsp coconut sugar
¼ cup pumpkin puree
½ tsp vanilla extract
1/2 tsp chai spice mix (store-bought or make your own – recipe below)
1 egg (room temperature)
Beat cream cheese and coconut sugar together until fluffy. Add pumpkin puree, chai spice mix and vanilla and mix. Finally, add in the egg.

Scoop the cheesecake batter little by little into the pan with chocolate batter, creating swirls with a spoon as you go. Once fully incorporated, bake in the oven for 15-20 minutes (time will vary depending on your oven and preferred level of stickiness).


---
Chai spice mix is super easy and quick to make – this recipe makes enough for all your fall (and Christmas) baking.
2 tsp ground cardamom
2 tsp ground allspice
2 tsp ground nutmeg
4 tsp ground cinnamon
2 tsp ground cloves
6 tsp ground ginger
…and just mix it all together!
This article was originally published on October 27, 2020