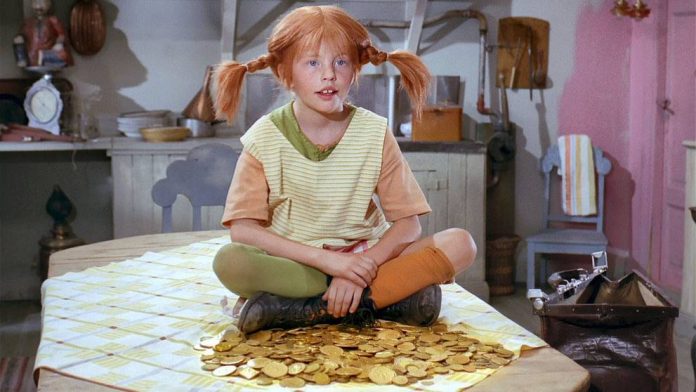 Pippilotta Viktualia Rullgardina Krusmynta Efraimsdotter Långstrump —although this (very long) name might not sound familiar, we're sure you've heard of her before. That's because it's Pippi Longstocking! 

Pippi, who is one of Astrid Lindgren's most famous creations, is celebrating her 75th anniversary this May. The character was originally created back in 1940 when Lindgren's daughter was sick in bed with pneumonia and asked her mother to tell her a story. Lindgren continued telling her children stories of Pippi Longstocking before finally writing them down in a manuscript. In 1944, Lindgren sent the manuscript to Sweden's then-biggest publisher, Bonnier Publishers, but was initially rejected because the character was "too controversial and might negatively influence children." A year later, Lindgren's first manuscript was accepted by Rabén & Sjögren, and subsequently, the first three Pippi chapter books were published from 1945 to 1948, along with a few short stories and a number of picture book adaptations. 
Pippi Longstocking is a nine-year-old girl who lives in Villa Villekulla, where she lives free from social norms. One of her habits is to tell stories that are often exaggerated but nonetheless endearing.

Pippi Longstocking's story is so well-known that it has been translated into more than 70 languages and made into several films and television series. In fact, ABBA singer Björn Ulvaeus is working on a "Pippi at Circus", a musical to be held at the famed Cirkus theatre in Stockholm. He notes:

"I had the privilege of meeting Astrid several times and her calm, confident radiance with a bright glitter in her eyes always made a deep impression on me. Västervik, where I grew up, is only 55 kilometers from her Vimmerby, so we are both Smålanders. I especially remember how proud I was when she said that I was 'a real Emil'. I have the deepest respect for her work and hope we can present something she would have been proud of."

What's your favorite Pippi story? Let us know in the comments below!