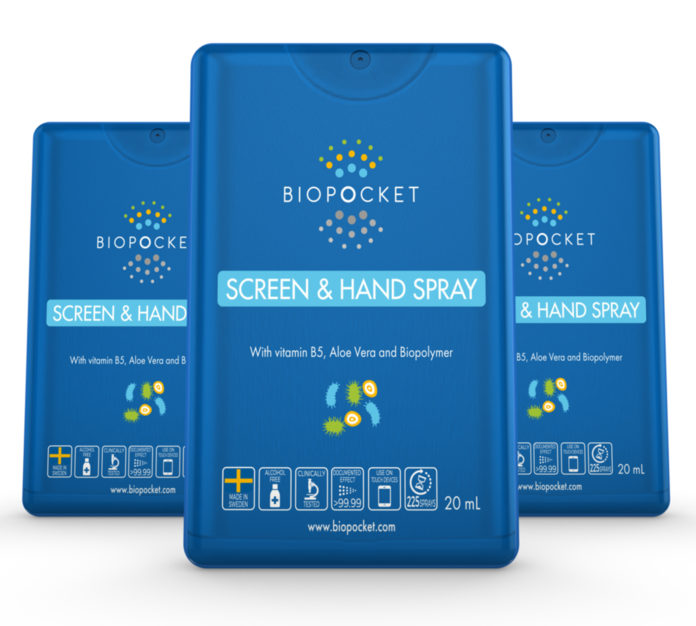 Amidst the coronavirus crisis, many people are looking to protect themselves from germs and prevent the spread of COVID-19. Since country-wide lockdowns were announced, supermarkets and grocery stores have been constantly selling out of important items like soap, toilet paper, and hand sanitizer. The Swedish company, Hygiene of Sweden, entered the U.S. market with its most popular product, Biopocket right before the pandemic hit, and have since then done their very best to keep up production in order to make the product available to anyone who would need or want it.
The company was created in 2016 by Philip Wilhelmsson, a bioscientist, and his father, Ulf Wilhelmsson in Landskrona, a city 50 km from Malmö. The company originally started small scale with a few staple products, but have grown to be sold all over Sweden, expanding their product range — and recently opening distribution in the United States.
The company's best-seller is the BioPocket, a small, pocket-sized spray that comes in a variety of uses. From Sun Care (a sunscreen spray) to Rest (a spray with melatonin that helps sleep), to even Boost (a natural energy spray), the BioPocket is well-loved by customers for its quality and convenient pocket size.
However, the crown jewel of the Biopocket collection is Hygiene of Sweden's Screen & Hand spray, which is enriched with Vitamin B5, Aloe Vera, and Biopolymers and kills 99.99% of bacteria without drying hands.

HOW TO FIND: Hygiene of Sweden's Biopocket Spray is available at Swedes in the States very own curated e-commerce store – The Nordic Collective.
Glenn Helen, who heads distribution in the United States, noted that "the most important thing for us is the customer experience and the chance for people to prevent themselves and others around from getting sick without damaging their skin."
What sets the BioPocket apart from other sanitizers is the alcohol-free formula, which is standard for many other sanitizers, that is skin-friendly and proven to be more effective against germs.
It was important for the founder that the spray has a long-lasting effect. Being a bioscientist, he made sure the spray would provide a protective layer on the skin that keeps killing viruses and bacteria even after being applied. The formula was also developed with technology in mind, as it is perfect to use on phones, tablets, and laptops without damaging the screen while leaving it streak-free.
Glenn notes, "The products are made in Sweden, owned by Swedish people, and invented by a Swedish scientist." Besides consumers, the company's products are used by famous athletes (they're official partners of the Swedish athletics team) and the Swedish Royal Court.
Glenn's final words were optimistic and summarizing the brand Hygiene of Sweden: Spread love, not germs.
This article is made in collaboration with The Nordic Collective – Swedes in the States very own eCommerce, curating the best Nordic brands for you!