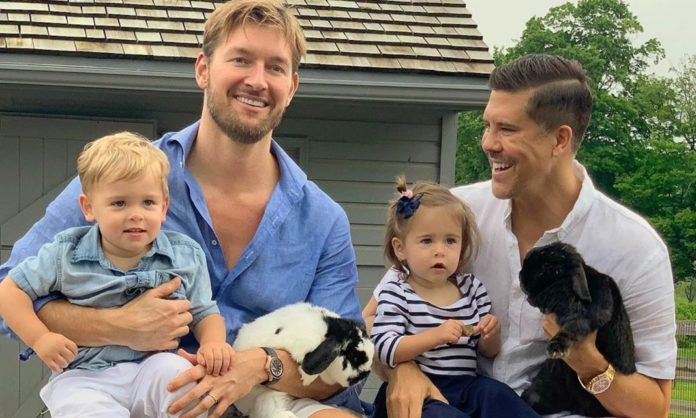 For those who have grown up in a Swedish household, birthday mornings are very special. One of the most important birthday traditions is having your family or friends wake you up in the mornings by bringing gifts, coffee, and, of course, a birthday cake to you while singing the Swedish birthday song, "Ja, må du leva!".
And Fredrik Eklund's family is no different. In a recent Instagram post, the real estate superstar wrote about his birthday celebration:
"It's a Swedish tradition for the birthday boy to be woken up super early to eat cake in the bed with the family after singing. Milla and Freddy made birthday cards and instantly got a crazy sugar high and started jumping up and down like mini kangaroos."
Eklund's two children, Milla and Fredrik Jr., got in on the festivities, baking a cake and writing handmade birthday cards. His birthday, which was on April 26, had a special gift: a new puppy!
He continued, "The best gift was the Golden Doodle puppy named Cash arriving in four weeks, Derek had planned it all behind my back."
Fredrik Eklund is one the most successful real estate brokers in the United States. The outgoing Swede was also a part of the series "Million Dollar Listing New York". In 2019, Fredrik and husband, Derek Kaplan, moved the family over to Los Angeles, where he continues to be a superstar broker and high-kick dancer.  
READ: Swedish Real Estate Superstar Fredrik Eklund Leaves New York
Eklund ended his post with a sweet message:
"Every year gets better, truly, 43 feels so good and I'm eternally grateful. I get very emotional when I think of all the love and blessings, especially the kids […]"
Grattis på födelsedagen, Fredrik!