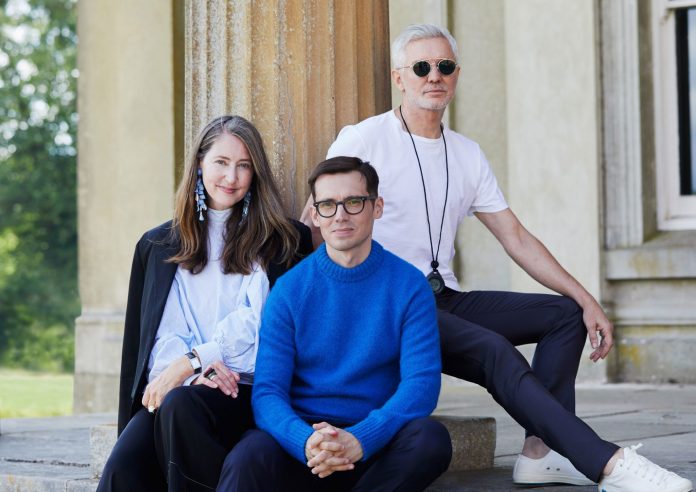 The exciting news about Erdem's collaboration with H&M caught my attention right away. H&M revealed in mid-July, that they are teaming up with the London based label ERDEM. The label is popular among celebrities and has been worn on the red carpet by celebrities like Emma Stone, Ruth Negga, Kiera Knightley and Nicole Kidman. I'm for one, is very much excited to see how the collection will turn out.
ERDEM was established in London 2005 and the brand has come to be classified with versatile yet powerful femininity. The founder of the brand is Erdem Moralioglu who practiced his design at Royal College of Art in London. He is born in Montreal, Canada, to a Turkish father and English mother. Since launching his label, it has grown into becoming one of London's most successful.
Moralioglu is known for using experimental textiles, vibrant prints, and detailed craftsmanship. If you look at Erdem's earlier collections you will clearly the recurring use of flower prints, which gives away a romantic feeling to his designs.
In an interview with Moralioglu he says, ''I've always been fascinated by things that explore femininity'', ''whether it's lace or flowers or the aesthetics of beauty.''

Baz Luhrmann brought life to the collaboration ERDEM x H&M with a teaser film. The film gave me a feeling of mysterious romance. Just by watching it my guess is that the collection will have beautiful and very feminine, romantic dresses but in a young and modern way. Which also gave away in an interview saying: '' I'm fascinated with things that you can't tell if they're 50 years old or 100 years old or completely new,'' and also ''It's so interesting to create pieces that look timeless, even if they're created digitally and are totally new.''
The Swedish powerhouse also revealed that there will be a men's collection coming this November. I am almost more excited about this than the ladies collection since this will be the first time Erdem Moralioglu will be designing for men. About the men's collection, he said: '' It's really about looking at a wardrobe of pieces and focusing on the exact design details. There has to be an easiness to menswear, and a sense of reality. I'm so happy with it, and I think so many women are going to love the men's collection too.''
Is anyone else feeling the Gigi Hadid and Zayn raiding-each-other's-closet vibes here? Apparently, 2017 is all about mixing wardrobes with your loved one.
Erdem went on to say: '' The menswear informs the women and vice versa; I'm thinking of my sister wearing a tweed jacket over a tea dress and trainers. And what our parents were wearing when they met in the 60s''.
This collaboration is just GREAT and I'm more than excited to see the collection when it drops in stores on November 2nd. In 66 countries also, might I add. The ERDEM x H&M collection will bring us romantic timeless clothing and the menswear will match perfectly in with the theme. So, guys and girls, mark your calendars for this special collaboration because I'm pretty sure you do not want to miss out on it!