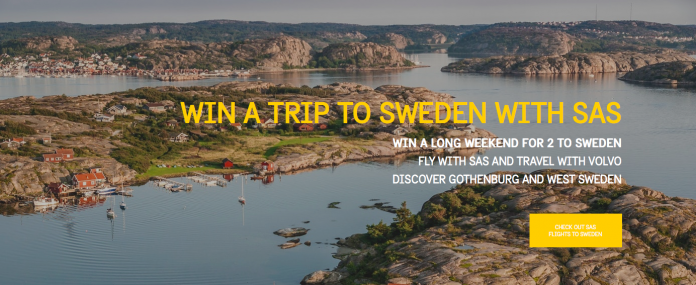 Have you dreamed about visiting Sweden and its beautiful landscape? Now's your chance to do so – and you get to bring a friend!
VisitSweden, together with Volvo and SAS, is currently having a contest where you can win a Swedish Adventure of a Lifetime. Combine the bustling urban vibe of Sweden's second largest city Gothenburg, with the tranquil and scenic surroundings in the West Sweden archipelago.
To enter the contest you have to be able to answer a few questions as well as motivate why you want to explore West Sweden and Gothenburg.
What's included in the price:
2 return flight tickets from US* to Sweden with SAS, including
2 x nights accommodation in Gothenburg
2 x nights accommodation in West Sweden
and a rental car from Volvo
Last day to enter is November 8th, 2017.
SAS is the leading Scandinavian airline with hubs in all the major cities in the US. Fly to Sweden from Boston (BOS), Chicago (CHI), Los Angeles (LAX), Miami (MIA), New York (Newark), San Francisco (SFO) or Washington D.C. (WAS). They thrive on punctuality and service all inspired by the modern Scandinavian design and taste.