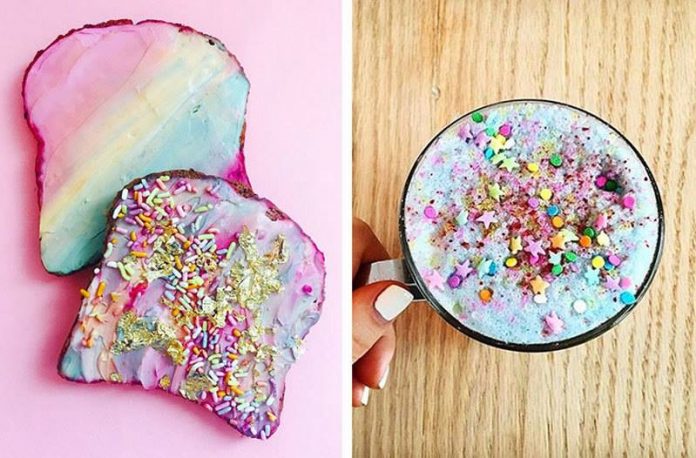 With the rainy spring weather and political turbulence prevailing in today's news media, its easy to feel a bit blue. But somewhere beyond the darkness, there is a place with never-ending sunshine, flowers and happiness in all the colors of the rainbow. I am talking about the latest food trend, "The Unicorn Diet". Maybe it's in these difficult times that we feel a need to escape reality and dream ourselves away to a place where the world glitters in dreamy pastels.
At the The End  in Brooklyn, NY, there's a sign with the text "Fly high with our Unicorn Latte". A latte that once started this colorful trend on Instagram, not only for it's mystic appearance but also it's healthy super-food ingredients which includes blue-green algae, ginger, pomegranate powder, edible flowers and vegan sprinkles. What's not to love?
Photographer and stylist Adeline Waugh, better known on Instagram as "Vibrant & Pure" was one of the early trendsetters whom experimented with toast and vegan cream cheese mixed with food pastel colors á la my little pony and bubblegum. Adeline, would use turmeric (for yellow), dried blueberry powder (for blue), beetroot powder (for pink) and chlorophyll (for green).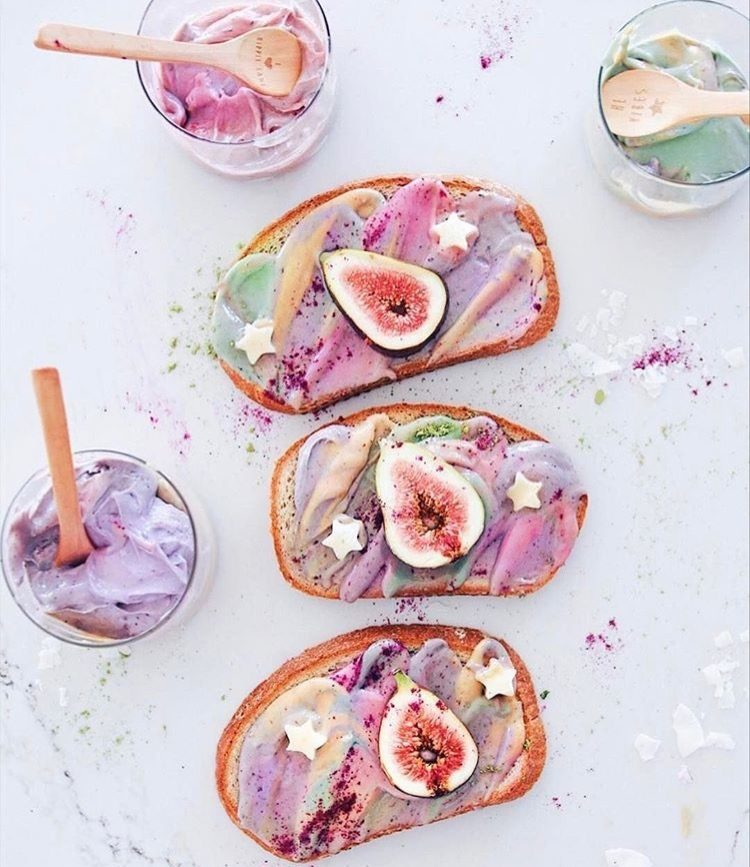 Then there's the industry. Starbucks recently introduced their limited edition Unicorn Frappuccino with ingredients like milk, cream, syrup, artificial coloring and a whopping 62g of sugar. According to the Department of Health and Human Services, and the U.S. Department of Agriculture, the recommended daily intake of sugar should not exceed 10%, roughly 40-48g, on a 2000 calorie intake per day.
Worth the splurge? Starbucks Sweden doesn't seem to think so. We called them up to find out whether the widely popular drink was making it's way to Scandinavia, with the response that there was absolutely no market for the US adored Unicorn Frap in Sweden.
Without doubt, there generally seems to be more of an acceptance of sugar among the US population, in which the Americans are more cautious of fat and calories. Fat-free products are more popular than sugar-free products. Something that seems to be the very opposite in Scandinavia. According to statistics, 40% of the adult population and 17% of the youth in the US are considered obese. 
According to Health.gov, almost half of all the added sugar comes from drinks and 31% comes from snacks and candy. The soda consumption reaches a shocking 154 litres per person and year (2016) in the US, versus 72 litres per person and year in Sweden.
Sweden is considered one of the healthiest countries in the world and there is mutual sense of healthy eating among the population. In addition to that, there are also extremely strict laws regulating what can be imported in to the country, how companies market their products and how they present nutritional facts.
With the health trend that continues to grow, especially in the big cities in Sweden, it is considered unpopular and even uneducated to feed yourself with a massive amount of sugar and fat. While the Unicorn Frap is dominating the social media scene in the US, The trend where the Unicorn Frap is a cool Instagram object in the US, Swedes are posting healthy images of Acai bowls and kale smoothies. 
Can culture such as marketing and regulations between the two countries be the answer to America's obesity problems? And in that case, can Swedes encourage Americans to live a more healthy lifestyle? 
 To end things on a healthy note, below is the recipe for the famous (healthy version) of the Unicorn Latte from the creators at The End in Brooklyn, taking wellness to a whole other level.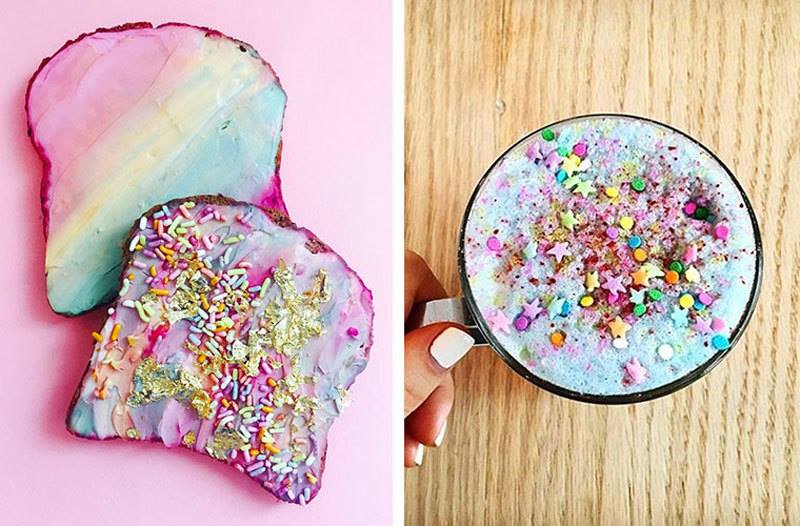 INGREDIENTS:
1 ½ cups raw cashews, soaked for 4 hours
3 ½ cups filtered water
1 vanilla bean, insides scraped out
2 oz cold pressed ginger
2 oz lemon
1 tbsp blue majik spirulina extract
1 tbsp maca root
3 medjool dates
DIRECTIONS:
1. Mix all ingredients in a high-speed blender for one to two minutes until well blended.
2. Dust with spirulina powder to garnish.
3. Serve warm and frothy, or chilled on ice.
Makes about 3 ½ cups.