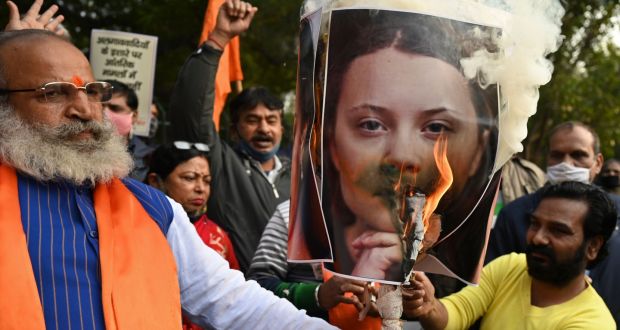 Greta Thunberg is not shy when it comes to taking on governments. The eighteen-year-old Swedish environmental activist has already dressed down the United Nations, taken on the European Union, and joined protests the world over to raise awareness of environmental issues.
But last week, even she might have been surprised at the sight of Indian pro-government activists burning her photograph in the streets of New Delhi.
As is often the case these days, it all started with a tweet:
Greta Thunberg, and other high-profile people, including Rihanna and Kamala Harris, have been trending #StandWithFarmers on Twitter. The hashtag is a sign of solidarity with independent Indian farmers who say the new reforms the government introduced last September are threatening their livelihoods.
Since then, tens of thousands of farmers have been living in makeshift camps on the outskirts of New Delhi to protest laws that change the way produce is stored, priced, and sold. The farmers say these laws will allow exploitation by big private companies and destroy their chance to make a living.
The protests have been largely peaceful, but have become violent in recent weeks. The Delhi police have cracked down, sending in riot troops and cutting off internet access.
Narendra Modi, the Indian Prime Minister, and his government are angry at what they see as western interference in Indian internal affairs. India's foreign ministry issued a statement about, "foreign individuals", who are posting on social media, "to force their agenda on these protests, and derail them".
Hindu nationalists and other pro-government groups took to the streets of New Delhi to show their support for the Prime Minister. Armed with photos of western supporters of the protests and banners in English and Hindi, they made their feelings clear by setting fire to Greta and her fellow tweeters.
But Greta has already proven she does not bully easily. Although she removed her original tweet for a while, she soon reposted for her 4.8 million followers with an updated version including a reference to not being intimidated by "hate, threats or violations of human rights". It seems not even mobs burning her photo can stop Greta from speaking up.
Featured image: Money Sharma/AFP via Getty Images