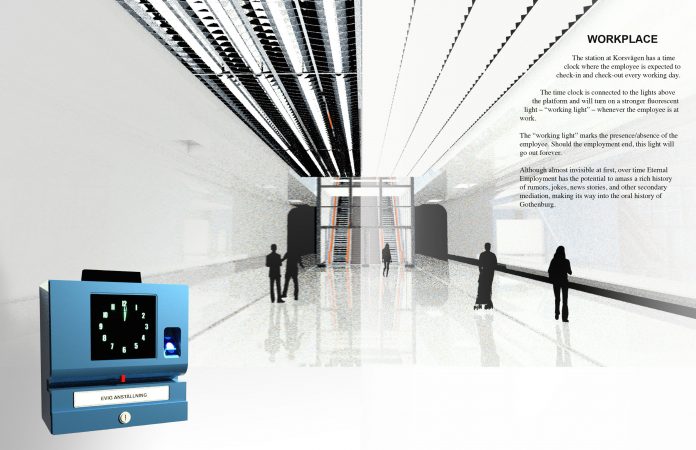 Is your regular job burning you out? Do you wish you had more time to do things you actually enjoy? Are you one of those people who actually like to watch paint dry?
If you answered yes to one (or all three) of these questions, we have the perfect "job" for you.
As part of a conceptual art project, Swedish artists Simon Goldin and Jakob Senneby are hiring someone to do absolutely nothing.
The job post, which spans 9 pages, is essentially looking for an "eternal employee" to work at the Korsvägen train station in Gothenburg, Sweden.
"The position holds no duties or responsibilities, other than that it should be carried out at Korsvägen," the job description states.
The only requirement would be for the employee to punch in and out when they come to work.
By punching the time clock, the employee turns on a set of lights over the train platforms so that everyone knows that you're at work.
Heck, the "employee" can even leave and go do other things, like take a walk in the park, go shopping, or meet up with friends for a bit of fika. Just make sure that you're not heading off to a second job (which is against the rules!). When the employee is ready to go home, they need to head back to Korsvägen and turn off the lights by clocking out.
That's great, you might think, but does this job actually pay anything?
You're in luck because the "eternal employee" receives a starting salary of 21 600 SEK (or about $2,250 USD) per month. The position comes with full benefits that include healthcare, an annual salary boost, vacations, and even a retirement fund.
However, that's not even the best part. As mentioned in the title, the "eternal" employee has this job for life and can retire whenever they want to. Should you wish to quit or retire, you would be replaced by someone new.
If you're keen on applying, you have plenty of time to perfect your CV. Applications are taken until December 15, 2025, and the winning employee is expected to start March 15, 2026. The job is open to citizens from around the world.
Would you want to work and "do nothing"? Let us know in the comments below!