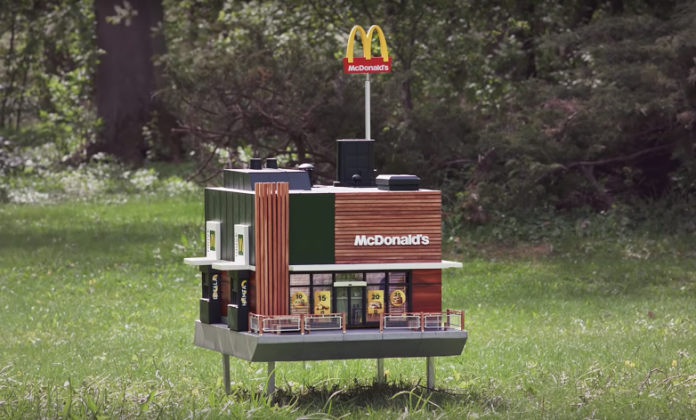 Many fast-food restaurants have been trying hard to keep up with sustainability and ethical trends by offering more vegan options on their menu or climate compensating for the impact their business has on the planet, but perhaps the most surprising is the newest McDonalds in Sweden, where you'll have to squeeze really hard to get inside.
That's because this McDonalds is only a few centimeters tall!
READ: Sweden's Most Popular Fast Food Restaurant Climate Compensates For 110% Of Its Carbon Emissions
No, it's not a "real" McDonalds – it's actually a beehive! Thanks to new cooperation between Swedish advertising agency NORDDDB and McDonalds, the McHive, as it's called, is calling for attention to the world's decreasing bee crisis.
Thanks to climate change, powerful parasites, and loss of biodiversity, honeybees are slowly on their way to extinction.
To do their part, some of the McDonald's franchises around the world have started putting up beehives on their rooftops.
NORDDDB notes, "The initiative started out locally but is now growing. More franchisees around the country are joining the cause and have also started replacing the grass around their restaurants with flowers and plants that are important for the wellbeing of wild bees. To celebrate the initiative which is part of McDonald's Swedens sustainability work, we created what could be the world's smallest McDonald's – a fully functioning beehive."
If you want to open up your own McHive franchise, unfortunately, the beehive has already sold for a whopping $10,000. The money raised will go towards honeybee charities.
Although the initiative, for now, is fairly small, who knows? Perhaps we'll start seeing McHives at our local parks.