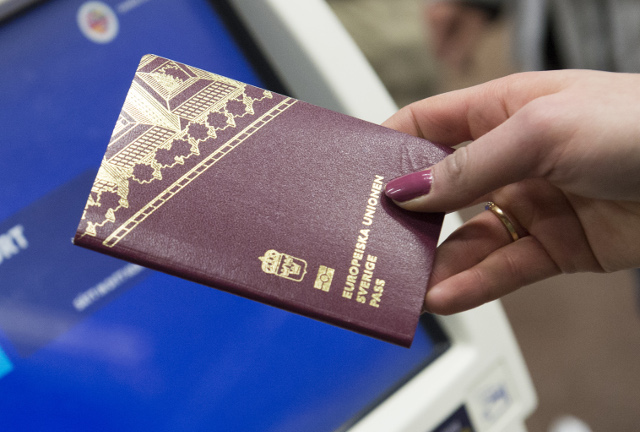 It was earlier this week that an email was sent out to Swedes living in the States, canceling all passport appointments made at the Swedish Mobile Passport Stations, that normally travels between the consulates in San Diego, San Francisco, Chicago, and Fort Lauderdale/Miami among other cities. 
The passport stations, provided by the Swedish Ministry of Foreign Affairs as a way to facilitate the process of renewing their passports easier for Swedish citizens living in the United States, have been affected by major technical issues. Although troubleshooting was done, the technical issues remain hence taking the machines out of service for an unforeseeable amount of time.
This puts a lot of Swedes living in States in a bit of a pickle regarding the renewals of their passports. We decided to get in touch with the Swedish Embassy in Washington D.C. to get some answers and to find out what the solutions are for the Swedish passport holders in the U.S.
The following answers are provided to us from the Swedish Embassy in Washington D.C.
What can citizens do if their passport is about to or already has expired?
In the U.S. you can apply for/renew a passport at the Embassy of Sweden in Washington DC, or at the Consulate General in New York. We recommend that citizens apply for/renew a passport well in advance before it expires, or they need to travel.
Swedish citizens can of course also apply while visiting Sweden. If the passport has already expired, a citizen can still apply/renew for a passport as long as a valid Swedish or American photo ID with clearly visible signs can be presented.
When do you estimate the passport stations to be up and running again?
The future of the mobile passport service is a decision for the Swedish Ministry of Foreign Affairs in Stockholm, Sweden.   
Can an emergency passport still be applied for at the General Consulates?
In the U.S., you may apply for a temporary/emergency passport at the following locations:
-The Embassy in Washington, D.C.
-The Consulate General in New York
-The Honorary Consulates in: Atlanta, Boston, Dallas, Ft. Lauderdale, Houston, Las Vegas, Minneapolis, Raleigh, San Diego, San Francisco.
So what can you do?
With the solutions given to us by the embassy, you have two options when it comes to renewing your passport.
You apply for an emergency passport at your nearest consulate. Use said emergency passport to travel back home to Sweden, and apply for a new passport there. If you have an upcoming trip to Sweden, which you were hoping to renew your passport for, this would be the best solution for you.
If you are staying put in the United States for a while, you can travel to either Washington D.C. or New York City and have your passport renewed at the Embassy/ Honorary Consulate. Due to the circumstances, the Embassy in Washington D.C. will have additional appointments available.





The below link provides additional information about how to apply/renew a passport or a national ID card in the United States:
https://www.swedenabroad.se/en/about-abroad-for-swedish-citizens/usa/service-for-swedish-citizens/passports/
Featured image: Fredrik Sandberg/TT