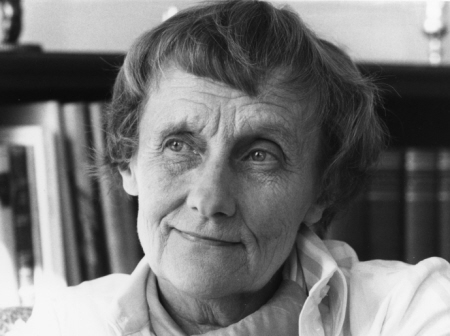 This article is made in collaboration with the project 'Sweden's History'. The text has been edited by our editorial team but you can find the original version on Sweden's History's Instagram. Be sure to follow them for daily facts and stories about Swedish history.
You are probably familiar with the fictional characters Pippi Longstocking, Emil in Lönneberga, Ronia – The Robber's Daughter among others. Most Swedes have grown up with these characters and they all have one thing in common: They were created and authored by one of Sweden's most prominent children's books author, Astrid Lindgren.
But who was the woman behind the author of some of the world's most popular children's literature? Astrid wanted to spread love and joy through her books, but her life wasn't always joyful itself. Keep reading.
Astrid Anna Emilia Lindgren was born in November 1907, in the small community called Näs, right outside the town Vimmerby in Småland, Sweden. She grew up with her parents, Samuel August Ericsson and Hanna Jonsson, as well as her three siblings: sisters Stina & Ingegerd, and her brother Gunnar Ericsson.
In 1914, Astrid Lindgren started school. According to the book 'Astrid Lindgren – en levnadsteckning' by Margareta Strömstedt, her first day wasn't ideal. Not unlike many children, Astrid was scared and shy, although she would eventually learn to overcome her shyness.
In 1917, her teacher would often read Astrid's essays out loud for her classmates, and just a few years later, at the young age of thirteen, Astrid had her first essay published in a local newspaper. She would go on to graduate school with the highest grades possible.
After graduating, she started working for the same newspaper that had published her essay years earlier, doing short news coverages. She would work there for two years before moving to Stockholm in 1926, to further her education in typing and stenography (the writing method that she eventually come to when writing her books).
It was at this time that things started getting tricky for Astrid Lindgren. During her time at the local newspaper in Vimmerby, she had developed a relationship with the editor-in-chief, Reinhold Blomberg.
Reinhold Blomberg was at the time of their relationship married, which complicated things when Astrid found out that she was pregnant. Reinhold offered to divorce his wife and marry Astrid but she declined and gave birth to her son, Lars, in 1926 at a home for single mothers in Denmark. Because she was poorly paid and single, Astrid decided to leave her son with a foster family in Copenhagen. Despite her struggle with money, she would travel between Stockholm and Copenhagen frequently to visit her son.
Astrid met Sture Lindgren while working at the Royal Automobile Club in Stockholm. Sture was the CEO of the organization and at the time – married. The pair would eventually fall in love, and Sture left his wife to marry Astrid in 1931. By this time, Astrid had brought back her son, Lars, from Copenhagen, who was also given Sture's last name, Lindgren. In 1934, the coupled welcomed their daughter, Karin, to the world.
It is thanks to Karin that Astrid would come up with the character Pippi Longstocking. Recalling the moment Pippi was "born", Astrid would say:
"Every night when I sat by her bed, she demanded in a typical way that children ask for something: "Tell me a story!" And one night when I was quite exhausted I asked her, "What should I tell you?" So she replied: "Tell me about Pippi Longstocking!" She came up with the name at that very moment. I did not ask her who Pippi Longstocking was, I just started telling and because of her strange name, Pippi also became a strange girl. Karin showed a strange love for Pippi, I had to tell the story over and over again, and it continued for several years."
Astrid started penning down to write down the story of Pippi Longstocking in 1944. Her daughter, Karin, was turning 10 years old and Astrid wanted to give her the manuscript as a birthday gift. It was while writing down the character of her daughter's imagination, that Astrid realized that she wanted to continue writing books. She gained notoriety after participating in competitions hosted by various publishing companies. Pippi Longstocking would be an instant hit.
Astrid Lindgren would go on to write multiple books about Pippi Longstocking, while also creating new characters like Emil in Lönneberga, The Brothers Lionheart, Madicken, and The Children of Noisy Village.
In 1952, Sture Lindgren would pass from a heart attack. Astrid would never remarry and was a widow for almost fifty years. She died in 2002, in the same apartment on Dalagatan in Stockholm which the family had lived since 1941.
Today, you can find Astrid Lindgrens World, a theme park in Vimmerby, where all her stories and characters come to life. There is also a Children's museum and fun park in Stockholm called Junibacken. All these worlds are creations based on her family and childhood memories & landscapes. Astrid Lindgren – one of the most-read children's book authors in the world.
This article was originally published on February 28, 2021.