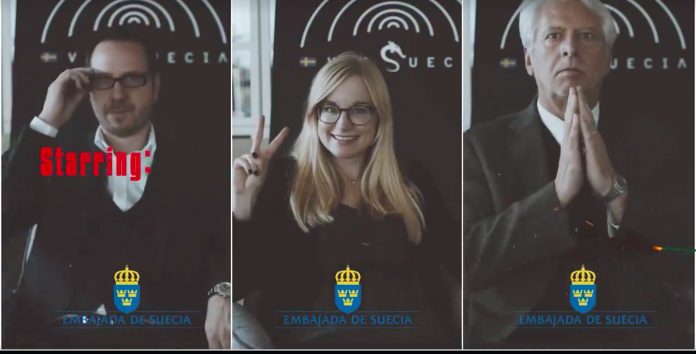 "BREAKING NEWS! The Conspiracy revealed! This is probably the most Impossible Diplomatic Mission ever made. Along with Team Sweden, cabinet members, Swedish companies in Chile, ESO, DJ Mendez, at least one Finnish spy, Metro, CNN and more."
Scroll to the end of the article to see the video.
In December, the Swedish Embassy in Santiago, Chile, posted a 13 minute long Mission Impossible video, featuring famous names such as Sweden's Prime Minister Stefan Löfven, and the EU and Trade Minister of Sweden, Ann Linde. The purpose of the video was to find an untraditional way to promote Via Suecia (The Swedish Way), which is a new art installation in Santiago's Los Leones metro station. The installation details Sweden and Chile's historic exchanges through a 260 ft (80 meters) long subway tunnel.
The Swedish ambassador to Chile, Jakob Kiefer, wrote the script himself, aiming to get a familiar feel with the movie Mission Impossible, along with funny and well-known references to it.
"We knew from experience that the embassy has limited power to break through using traditional media. I thought that by making some films we could draw from the way the world of diplomats is sometimes seen as a bit mysterious or beyond reach," Kiefer told The Local.se.
Even though they were aware of the possibility of the video going viral, the Swedish embassy had no clue just how well received it would end up being. As of the time writing this article, the video has been viewed over 420 000 times with 2400 likes and 320 comments.
"We're a bit overwhelmed with the response. The first installment reached around 800,000 and the new one close to half a million in a short time. We got over 1,000 shares and a lot of positive comments, not just on the film, but also on Sweden contributing to decorating part of the subway station." Kiefer further told the Local.se.
Interesting in watching the Embassy's Mission Impossible video? Fast forward to 11:45 if you want to see Stevan Löfven part, otherwise, click on the video below and enjoy.