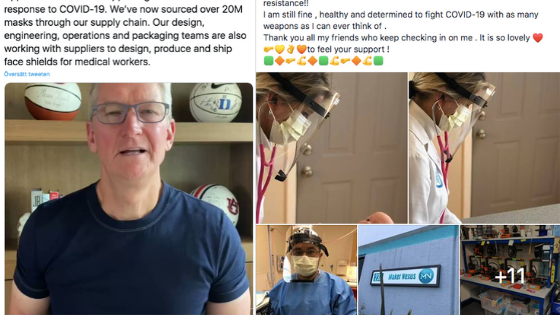 Swedish pediatrician Kerstin Rosen saw the effects of what happened when there was a lack of PPE (Personal protective equipment) at her hospital in Santa Clara, CA, and knew she had to do something about it. 
Using her skills in the hospital and her background in engineering, Kerstin created a prototype of a face shield. Then, she did something fearless: Kerstin asked Apple for help. 
"I knocked on Apple's door, we teamed up", Kerstin Rosen wrote on her social media page.
In the video, Apple CEO Tim Cook said the company agreed to the partnership and would make a million face shields per week and ship them to undersupplied hospitals around the United States.
Apple is dedicated to supporting the worldwide response to COVID-19. We've now sourced over 20M masks through our supply chain. Our design, engineering, operations and packaging teams are also working with suppliers to design, produce and ship face shields for medical workers. pic.twitter.com/3xRqNgMThX

— Tim Cook (@tim_cook) April 5, 2020
Face shields are an important tool for healthcare workers around the world because they provide an extra barrier between the workers and the infected. At 100 to a box, the face shields will be packed flat and assembled in just a minute. 
The first shipment of face shields from Apple has already been delivered to Kaiser Permanente in Santa Clara, where Kerstin works.
"Apple is right next door to us at Kaiser Santa Clara, and we will take care of them," said Kerstin. 

Apple isn't alone in making PPE gear. Ford, General Motors, and Tesla Motors are producing ventilators, respirators, and face shields; Formula One teams are producing CPAP machines for patients; and Nike is making face shields. 

Thanks to Kerstin's ingenuity and Apple's capabilities, thousands of medical workers across the US (and maybe even the world!) have an extra layer of protection while fighting coronavirus.