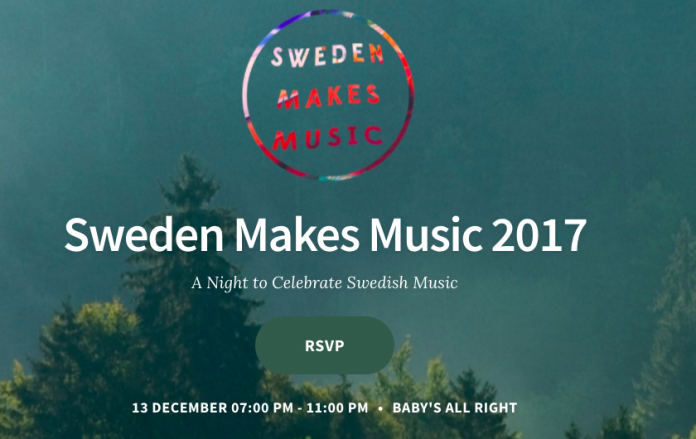 The newest stars of Swedish pop will take the stage at Baby's All Right in Williamsburg, Brooklyn, with US debut live performances by Swedish artists Janice, Pale Honey, Sarah Klang and sweeep.
When
December 13th, 7:00pm-11:00pm

Where
Baby's all right in Brooklyn
For more info: https://sweden-makes-music-2017.confetti.events/
---
Janice
Janice is the latest in a line of performers – including Lykke Li and Mapei – to emerge from Sweden's famed Tensta Gospel Choir. With four big soul-inspired pop singles, Janice has quickly solidified her position as one of Sweden's most promising new talents. Her music is atmospheric and dark yet hopeful.

—
Pale Honey
Gothenburg-based duo Pale Honey make minimalist rock that lunges from saccharine to deadly in an instant, meshing dirty synths and distorted guitars. For their earlier work, they've been compared to superstars such as PJ Harvey and Sleater-Kinney.  In October of this year, they released their latest album Devotion.

—
Sarah Klang
Sarah Klang's sound is unlike any other. With a completely unique voice, she encapsulates listeners in her own universe. Her inspiration comes from old wedding dresses, Barbara Streisand, ambient electronica, dads in the 80s and plastic flowers.

—
sweeep
sweeep explores the borderlines between witch house and atmospheric space noise, creating a unique sound best described as sweepstep.
—