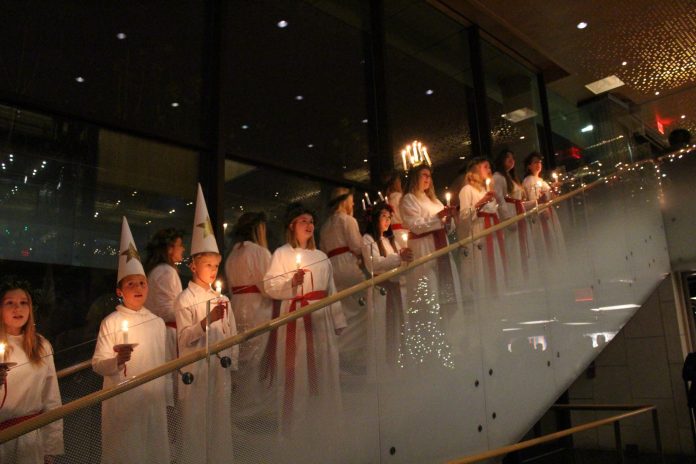 December 7: On the banks of the murky Potomac, the Christmas trees glittered behind the expansive glass windows of the House of Sweden. Swedish Christmas goats, Julbockar, welcomed guests. And for once the banter avoided the typical Washington D.C. fare of politics and President Donald Trump. Instead, the crowd gathered in universally good cheer.
Perhaps it was the glögg. The annual Christmas event of the DC Chapter of the Swedish-American Chamber of Commerce (SACC-DC) included the usual Swedish traditions such as a Luciatåg and a typical Swedish julbord. But it was a newfangled version of the most traditional drinks — white glögg — that seemed the most popular offering. The supplies ran out.
The House of Sweden designed by architects Gert Wingårdh and Tomas Hansen is reminiscent of Scandinavian design, featuring straight lines, marble, and warm maple wood. Its doors opened in 2006, providing Washington D.C. with a unique event venue — the only place in D.C. with panoramic views of the Potomac River, Kennedy Center, Air Force Memorial and Watergate Complex.
Charismatic Chairman Christer Bergman initiated festivities with his deadpan Swedish humor, perhaps lost on some of the foreigners. He emphasized the importance of December in Sweden. "Holiday with Lucia is a highlight of the year and it kickstarts the holiday season to be filled with love and joy for your family and loved ones." He also encouraged individuals and companies to join the SACC-DC family, for a small fee, of course.
The event's main sponsor, the SAAB group, invited guests to taste the classic Swedish julbord which had everything you'd expect. There were two types of salmon – cold smoked and marinated – meatballs, lingonberries, beet salad, ham and herring.
Toward the end of the evening, a Saint Lucia procession complete with two stjärngossar (star boys) sang a medley of tunes, including a tearjerking rendition of Hallelujah in Swedish.
For the non-Swedes in the crowd, an educational discourse was offered on how the heroic tale of the female martyr Lucia from Italy made its way to Scandinavia. The crown of lights represents the flames that never touched her, and the red sash embodies how she was slain by sword. Or so the legend goes.
The festivities rounded out with exciting raffles prizes, including two watches by Daniel Wellington, an IKEA gift basked, a weekend stay at the Georgetown Suites hotel, and several tickets to the Washington Capitals ice hockey games. A Swedish brand frying pan also was given away.
The SACC-DC provides an opportunity for young ambitious Swedes seeking professional experience in the US to apply for internships. Companies can offer an internship spot if they are SACC-DC members.
For young Americans interested in learning more about the Swedish way of life, there is a trainee program for U.S. citizens seeking internship opportunities in Sweden. The chamber's umbrella organization, SACC-USA, facilitates the program. Apply now!