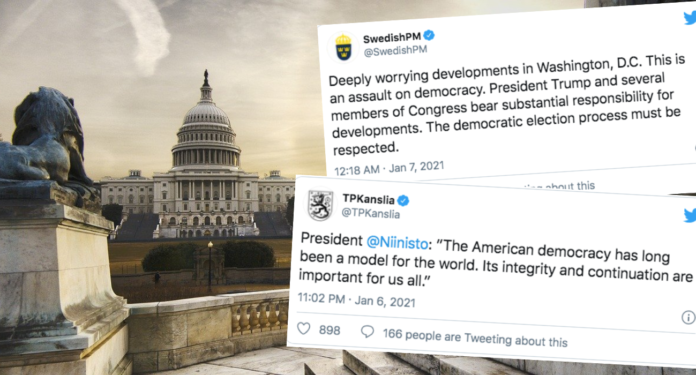 The world followed closely as armed rioters stormed the very center of the most powerful democracy in the world – the U.S. Capitol. The horrifying scenes in Washington D.C. served as a reminder to many world leaders how truly fragile democracy can be, even in the United States.
Many took to social media to express their concerns, with Nordic PM's, presidents, and foreign ministers condemning the actions and reminding the world that democracy must be protected at all costs.
This is what they had to say:
Swedish PM, Stefan Löfven :
Thursday morning Stefan Lövfen welcomed President-elect Joe Biden:
---
Former Swedish PM and Minister of Foreign Affairs, Carl Bildt:
---
Ann Linde, the Swedish Minister of Foreign Affairs:
---
Former Norwegian PM and current secretary general of NATO, Jens Stoltenberg:
---
The Finnish President, Sauli Niinistö:
---
The Norwegian Minister of Foreign Affairs, Ine Eriksen Søreide made a statement via the Norwegian Ministry of Foreign Affairs official Twitter profile:
---
Danish PM, Mette Frederiksen:
[Translated]
"Prime Minister Mette Frederiksen says: Extremism, violence, polarization, and chaos is never the way forward. Appalling images from Washington. May democracy function again."
---
Iceland's President didn't directly comment on the storming of Capitol Hill but congratulated President-elect, Joe Biden, on the win and ended his tweet with some old Nordic wisdom.
---
Gudlaugur Thor, Minister for Foreign Affairs and International Development Cooperation of Iceland, said: