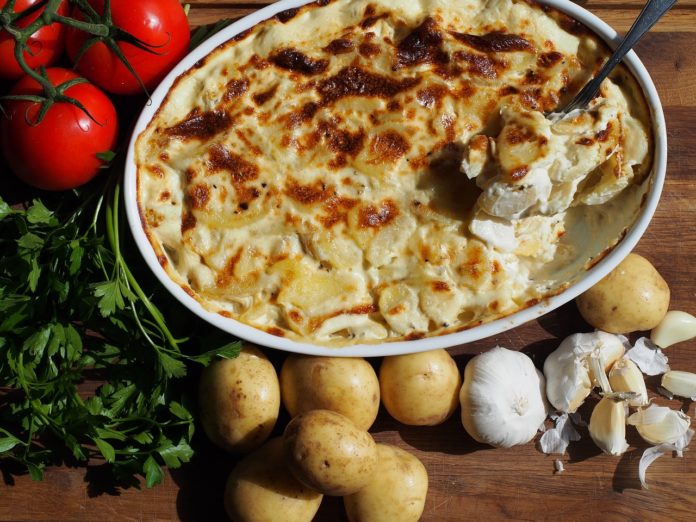 Times are strange. Although distancing yourself from other people sounded like a great idea at first, after a couple of days many of us get antsy and restless.
What better way to spend your time indoors than cooking for your loved ones? Or yourself? Or maybe you can help the elderly neighbour by cooking a dish that is easy to make, store in the fridge and re-heat while also paying hommage to Sweden? 
We got the perfect recipe for you! 

This recipe was originally translated from Ica.se, and called "Nils Emils Laxpudding med Rökt Lax"
Ingredients
Smoked salmon: 300 g 
Potatoes: 10 mid-sized (about 750g)
Salt: 1 tsp 
Eggs: 3 
Milk, or a full milkalternative: 0.8 cups 
Whipped cream: 0.8 cups
Butter: 2 tbsp
Dillbutter
Butter: 100 g
Freshly chopped dill: as much, or little, as you please
Directions 
Set the oven to bake at 175C/ 350F  
Peel and slice the potatoes, about 1,5 inch in thickness
In a buttered baking dish, start by adding a layer of potatoes across the bottom of the form, add a layer of salmon top and keep alternating layers. The top layer should consist of potatoes. Don't forget to flavor the potatoes with a little salt after each layer. 
Whip together the eggs, milk, (or milk alternative) and the cream. Add a pinch of salt, and pour the mix on to the salmon and potatoes. Add a few clicks of butter on top of the potatoes and bake in the middle of the oven for about 50-60 minutes. 
To make the dill butter: Heat the butter in a saucepan and transfer to another saucepan, leaving behind the bottom layer of the butter. Add the dill and warm on low heat. Pour over the casserole after it has finished baking. 

We recommend against adding dill do the casserole before baking 
Smaklig måltid!