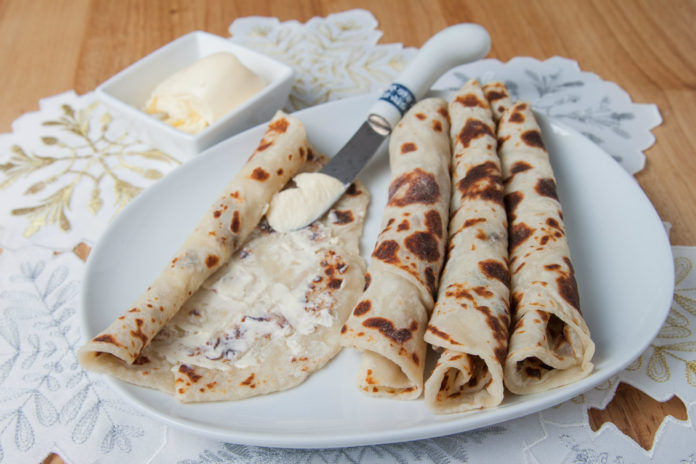 The Norwegian Lefse is one of the most popular Norwegian dishes and a staple recipe in the Scandinavian cookbook. This delicious potato flatbread can be served multiple ways, either with butter and brown sugar or if you are looking for a more savory option, with hot dogs. The options are many but the foundation of the recipe remains the same.

And we've put together a great recipe for you!
This amazing dish is easy to whip together, and also freezes well.
Ingredients
Peeled potatoes: 10 pounds
Butter: ½ cup
Heavy Cream: ⅓ cup
Salt: 1 tablespoon
White sugar: 1 tablespoon
All-purpose flour: 2 ½ cups
Directions
Place the potatoes in a pan with cold water and cover. Bring to a boil over medium hit and cook the potatoes until they are soft and tender. About 15 minutes. Finely mash the potatoes and place into a large mixing bowl.

Add butter, cream salt and sugar to the potatoes and mix. Let rest until it has cooled down to room temperature. (Some recipes even recommend cooling the mixture in the fridge overnight)

Stir flour into the potato mixture and work up a dough. Take the dough out of the mixing bowl and place it on the counter. Knead it once or twice until it becomes a smooth ball. Roll it into a thick log, and cut it into 15 pieces, the size of a walnut. Lightly flour a pastry cloth and roll out lefse balls to 1/8 inch thickness. Try to roll them out to be as thin and round as possible. Make sure to dust your lefse with flour so that they don't stick in the pan when you cook them.

Heat up a large pan or skillet and cook your lefse (400 degrees F/200 C) until bubbles form and each side has browned. Be sure to flip it a few times to make sure it doesn't burn and cooks equally on both sides. When the lefse is cooked, place on a damp towel to cool slightly and then cover with a damp towel until it's ready to serve.