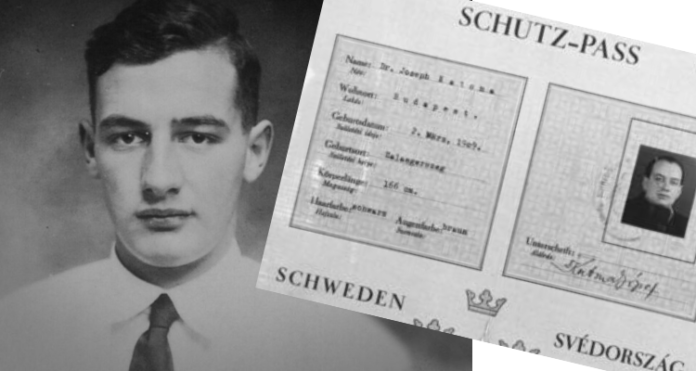 Raoul Wallenberg – the Swedish diplomat who, during the presumably very short time he had on earth, saved tens of thousands of Jewish lives. Lives that would have been tragically lost to history by the time they walked through the gates of concentration camps.

An honorary citizen of the United States, Canada, Hungary, Australia, and Israel, with streets and squares in New York City, Stockholm, Tel Aviv named after him, Raoul Wallenberg might very well be one of the most celebrated Swedes in history. But despite the many lives saved thanks to him, and enormous efforts made to honor his memory, his story is never an easy one to tell.

Raoul was born in Lidingö, a municipality outside of Stockholm, in 1912 to the Wallenberg family. His family includes a long line of bankers, politicians, and diplomats, including his grandfather, Gustaf Wallenberg, who was a diplomat and envoy to Tokyo, Istanbul, and Sofia. Raoul had a normal upbringing, including an eight-month stint in the Swedish military as part of the mandatory guidelines at the time. He graduated with an architecture degree from the University of Michigan and worked odd jobs until one fateful encounter.

Mr. Wallenberg was working at an export-import company when his business partner asked him to travel to Hungary to do business on his behalf. Thanks to these trips, he quickly learned how to speak Hungarian, and in 1941, he was appointed a joint owner and the International Director of the company. As part of his duties, Raoul made several business trips to Germany and Occupied-France during World War II, where he was able to closely observe the Nazis and what they were doing.

A few years later, in the spring of 1944, Raoul was recruited by his business partner to work on the War Refugee Board and travel to Budapest under diplomatic cover to lead the rescue operation of Jewish people who could not escape Hungary.
By the time Raoul Wallenberg started working as a representative, more than 400,000 Hungarian Jews were already deported by freight trains to various concentration camps, and only 230,000 Jews were left in Hungary.

While serving as Sweden's special envoy in Budapest between July and December 1944, Wallenberg issued special passports and sheltered Jews in diplomatic buildings. Along with fellow Swedish diplomat Per Anger, Raoul issued "protective passports" that identified their owners as Swedish subjects awaiting repatriation. Although not legal, these documents looked official and were generally accepted by German and Hungarian authorities. Ultimately, those special passports prevented more than ten thousand Jews from deportation.

Wallenberg also rented 32 buildings in Budapest and declared them to be extraterritorial, which means that they were protected by diplomatic immunity. He created signs such as "The Swedish Library" and "The Swedish Research Institute" on their doors and hung large Swedish flags on the front of the buildings to throw the Nazis off. Similar to the passports mentioned above, these buildings housed and saved almost 10,000 people.

Perhaps one of Raoul's bravest acts was when he intercepted a train full of Jewish people who were about to leave for Auschwitz. Sandor Ardai, one of the drivers working for Raoul, recounted the story:

"He climbed up on the roof of the train and began handing in protective passes through the doors which were not yet sealed. He ignored orders from the Germans for him to get down, then the Arrow Cross men began shooting and shouting at him to go away. He ignored them and calmly continued handing out passports to the hands that were reaching out for them. […] After Wallenberg had handed over the last of the passports he ordered all those who had one to leave the train and walk to the caravan of cars parked nearby, all marked in Swedish colors. I don't remember exactly how many, but he saved dozens off that train, and the Germans and Arrow Cross were so dumbfounded they let him get away with it."

Towards the end of World War II, Raoul was invited to meet with Soviet military officials to go over paperwork. That was the last time he was seen alive, on January 17, 1945.

Raoul's family has never received an official explanation as to what happened.
There are many theories to Raoul's disappearance, with some people thinking he was forced to work at a Gulag (a Soviet labor camp) while others believe he was murdered.

Numerous accounts state that they have seen Mr. Wallenberg in Soviet prisons, with one witness claiming to have seen him alive in prison as late as 1987.

In February 1957, the Soviet government released a document dated back to July 1947, which stated that Raoul "most likely" died of a heart attack or heart failure. In 1989, Raoul's personal belongings were returned to his family, including his passport.

A few years later in 1991, a detective tasked by the Russian government to investigate Raoul's fate concluded that he died in 1947, executed while a prisoner in Lubyanka. He may have been a victim of the C-2 poison that was being tested at the time by the Soviets.

Unfortunately, the mystery surrounding Raoul's death led both of his parents to commit suicide days apart from each other in 1979. Raoul's half-sister attributed their suicide to their despair about never finding their son.
In the spring of 2016, the Swedish Tax Agency announced that if Raoul Wallenberg did not report to the Tax Agency by October 2016, he would be declared dead. This was after a petition to be declared dead in absentia had been made.
The Swedish Tax agency officially declared Raoul Wallenberg dead in October 2016. The official date of death being July 31, 1952. Five years after he was disappearance.

Nowadays, Raoul Wallenberg's legacy lives on in the history of the more than thousands of Jews that he rescued during the war. His selfless acts, compassion, and determination allowed thousands of people to live and go on to do great things. Some of the people that he rescued went on to become doctors, teachers, artists, humanitarians, and even a senator for the United States. Senator Tom Lantos was the one who pushed for the recognition of Raoul Wallenberg as an honorary U.S. citizen.

In 1984, the Raoul Wallenberg Institute of Human Rights and Humanitarian Law was created in order to advance human rights across 40 countries, from Europe to Asia, Africa, and the Middle East.
Recently, the International Raoul Wallenberg Foundation invited survivors to share their thoughts on the man who saved their lives. One man wrote, "Since no words could ever express my eternal gratitude to you, Raoul Wallenberg, I named my child after you, for saving his grandmother's life in November 1944 at the Budapest brick factory."
To read more about Raoul Wallenberg, visit:
https://sweden.se/society/raoul-wallenberg-a-man-who-made-a-difference/

https://rwi.lu.se/

https://en.wikipedia.org/wiki/Raoul_Wallenberg




Featured image: US Holocaust Memorial Museum, courtesy of Ferenc Katona
This article was originally published on January 22, 2020.