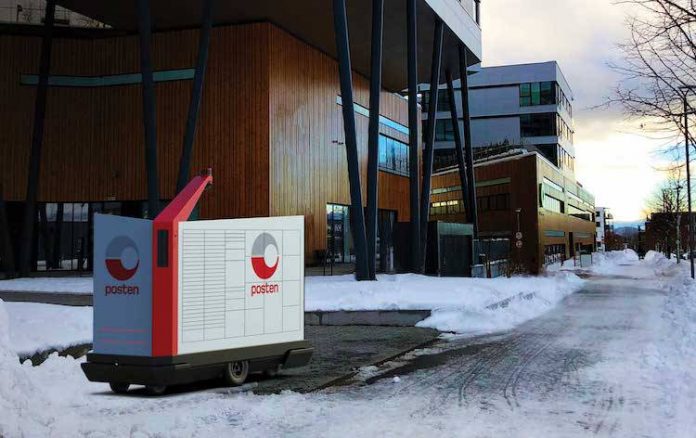 In an era where you can instantly send someone a message through Email, Twitter, Facebook, iMessage, and more, what's the point of snail mail? If you live in Norway, there's a fun chance to see a robot deliver your mail!
Thanks to a new partnership between Posten-Norge, Norwegian's government-run postal service, and Buddy Mobility, a San Francisco- and Oslo-based robotics startup, a "robot mailman" might be a possibility in the near future.
Buddy Mobility notes, "Our robot provides Posten with operational cost savings to offset revenue losses from dramatically decreasing mail volumes. At the same time, the robot offers new revenue streams around package and parcel delivery."
Although this might seem like a novel idea, the Posten bot is not the first of its kind: similar mailman robots have been tested all around the world. In the United States, several start-ups have been experimenting with postal bots in college towns, and in Germany, DHL's PostBot is already testing a few different routes in the city of Bad Hersfeld.
So, how does it work? The Posten bot looks like a large box with wheels and plenty of compartments on its side that are filled with envelopes and small parcels. The robot can travel around 6 kilometers per hour (4mph) — yes, you read that right — and will be able to deliver mail to 100 recipients per day. The robot won't be able to deliver mail directly to a customer's mailbox. Instead, the robot will "park" in front of the recipient's house, and the recipient will have to open a special app on their phone to unlock the box and retrieve their mail. Afterward, the robot will head back to the post office to recharge its battery and refill its supply for the next day.
If you're interested in learning more, check out the video below:
Would you let a robot deliver your mail? Let us know!