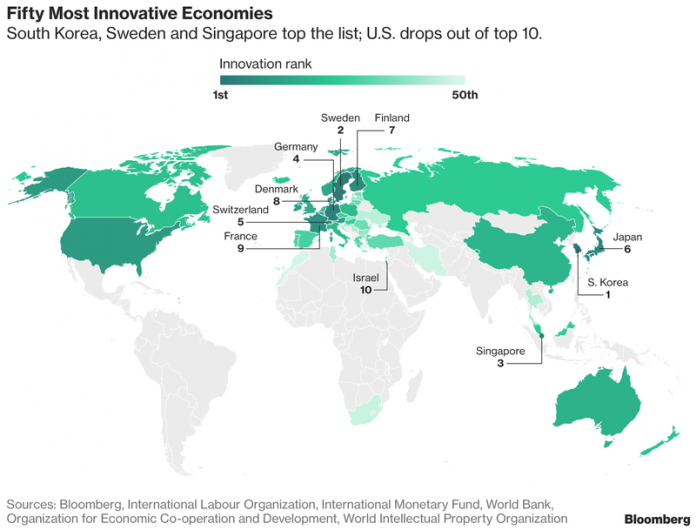 Are the Nordics edging out Silicon Valley? Bloomberg thinks so.
Earlier this year, Bloomberg released their 2018 Innovation Index, an annual list of the most innovative countries, which is based on 7 factors (including patents, research and development, and impact of innovation). Three Nordic countries made the list including Sweden (#2), Finland (#7), and Denmark (#8). South Korea topped the list at first place, and Israel beat the United States for 10th place.
Why did the United States drop out of the Top Ten? According to the report, even though productivity improved, there was a large drop in the Education Efficiency category, which is the addition of new science and engineering graduates in the labor force. Value-added manufacturing also declined.
2018 was another fantastic year for the Nordic countries Sweden, Finland, and Denmark as they maintained their place in the Top Ten.
Sweden came in second place for the second year in a row because it is quickly gaining the reputation of Europe's tech start-up capital. In fact, Stockholm produces the second-highest number of billion-dollar tech companies per capita, after Silicon Valley. Start-ups like Spotify, Minecraft, and SoundCloud are all made in Sweden and credit the country's open environment, deregulation, and tax breaks for their success.
The majority of Finland's win can be credited to their excellent R&D, where they rank #1. Although they had a huge impact on the world with Nokia years ago, Finland's hottest industry right now is gaming. The share of Finnish mobile game development was roughly 7% of the revenue generated in the entire country from hits such as Angry Bird and Max Payne.
Just below Finland, Denmark is the country with the third most R&D personnel. This success can be credited to a large amount of pharmaceutical and biotech companies that need constant research to test out and market drugs. Top companies include Novo Nordisk, ALK-Abelló, and Pharma Nord.
"There's something about those Nordic countries," Bloomberg wrote when presenting its Innovation Index in 2017. This region's rise in innovation is only the beginning.