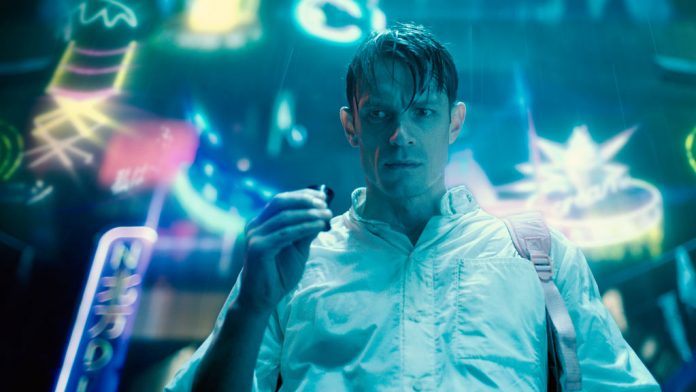 Sweden got some big names in Hollywood right now, such as Alicia Vikander, Noomi Rapace, Alexander Skarsgård and Joel Kinnaman who's known for House of Cards, The Killing, and now the new Netflix series Altered Carbon.
Over the last few years the interest for sci-fi has increased, which hasn't gone unnoticed   Netflix, who's jumped on the futurism train with series like  Stranger Things, Sense8, Black Mirror and Dark. Their newest venture, Altered Carbon, is one of the most expensive shows Netflix has produced and the budget is reported to be around $6-7 million per episode. "I'm so stoked about this. It's pretty much Netflix's biggest endeavor. They're really going to be able to create a world that's got a bigger budget than the first three seasons of Game of Thrones." said Kinnaman in an interview with Yahoo! Entertainment.
Altered Carbon is based on the novel by Richard K. Morgan and takes place more than 300 years in the future. Takeshi Kovacs is a soldier thats has been kept unconscious for 250 years and is waking up in a new body (sleeve), played by Kinnaman. The wealthy man Laurens Bancroft is the one who gives Kovacs the chance to get back to life, but it doesn't come for free. Bancroft wants Kovacs to help him solve the murder of himself. The wealthy people (Meths) can live for hundreds of years, because they can afford the system that can place their digital consciousness (stacks) into a new sleeve.
Kinnaman plays the sleeve of Kovacs and Bancroft, who is played by British actor James Purefoy. The cast also include stars like Canadian Kristin Lehman, Martha Higareda, Renée Elise Goldsberry,  Chris Conner, Ato Essandoh, and Dichen Lachman.



To get people's attention, Netflix came up with an interesting marketing campaign.  Here's an example of what they did at a bus stop in West Hollywood, Los Angeles. They put a sleeve in a plastic bag and also made it look even more realistic by making it look like he's breathing.
https://www.youtube.com/watch?v=RCl_9HhF7vc
The truly unique marketing campaign got people intrigued and interested in the show, and so did Kinnaman. "It's going to be something special. It's something that's never been done before and I'm a big fan of intelligent sci-fi. To see a sci-fi show with a hard R-rating with a big budget, so they're really going to be able to create this entire world," said Kinnaman to Yahoo! Entertainment.
The show's been a hit with audiences so far, with a 91% score on Rotten Tomatoes and many fans are swooning for Joel Kinnaman's truly ripped muscles – and his impeccable acting as well.
I'm loving this show!@AltCarb#AlteredCarbon@joelkinnaman you're just awesome ??

— ?????? (@SHERL0CKlover) February 14, 2018
"I love future shit." – @joelkinnaman

It's only February but I vote this Quote of the Year. #alteredcarbon #JOELKINNAMAN @AltCarb @netflix https://t.co/DpZUX3yG5v

— ?❄ Rae *Mistletoe* Mueller ❄? (@reviewsbyrae) February 12, 2018
It's a crime @joelkinnaman gets to look this good ??? #AlteredCarbon #JOELKINNAMAN https://t.co/ANo80zH4Gi

— Sienna Petrone ♍️ (@s_petron3) February 11, 2018
I fucks with Joel Kinnaman's acting. It's always solid. #AlteredCarbon #JOELKINNAMAN

— Karrington Gibson (@Karrington25) February 9, 2018
Thank you Netflix for giving me another reason why I love Joel Kinnaman ? #alteredcarbon #JOELKINNAMAN @joelkinnaman #Netflix

— Jackson Mel (@SorryMissJaxson) February 4, 2018
It's still up in the air if there'll be a season 2, and if it there is one, Kinnaman will most likely not be in it. "I don't think so, no. We have no idea what the second season would be like, but my guess is that they follow the two other books, and they are all on completely different planets and on completely different worlds." Kinnaman said to TV Guide.
Have you seen Altered Carbon? Let us know what you think, comment below!