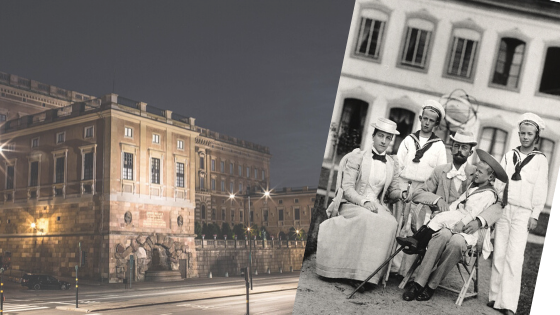 Many people have noticed similarities between the current COVID-19 and another devastating pandemic that happened more than 100 years ago: the Spanish Flu.
Let's take a moment to go back in time and learn the tragic yet little-known story of how the Spanish Flu affected Swedish lives, specifically the life of a Swedish royal.
In 1918 a deadly virus ravaged countries across the globe, causing more than 500 million people to be infected – about a third of the world's population at the time. It killed somewhere between 17 million to 50 million people, making it one of the deadliest pandemics in recent history.
There are a few theories as to how why the pandemic was named the Spanish Flu, one theory suggests it was after the first royal who contracted the flu – the Spanish king at that time, Alfonso XIII. Another theory is that it got its name thanks to the severity of the pandemic first being reported by Spanish media.

As the disease rapidly spread, several of Europe's royals became ill. Although most recovered, there was a certain member of the Swedish Royal Family who became so ill that he died: 29-year old Prince Erik, Duke of Västmanland.
The prince, born in 1889, was the third and youngest son of King Gustaf V of Sweden, and Victoria of Baden. At this time, Sweden and Norway were still in a union effectively making Prince Erik a prince of Norway.
Prince Erik was born with epilepsy and mild intellectual disability, although this wasn't noticeable at a first glance. In fact, he was known for being quite handsome.
Because of his condition, he led a quiet life and was rarely in public with the rest of the royal family. He was even present in official royal photographs but did not have any official royal duties.
In the early 1900s, a residence was built for him in Djursholm (north of Stockholm), where he was cared for by his full-time staff. Every once in a while, he would take a trip to Stockholm, where he enjoyed visiting the opera, marveling at the capital.
It was in the summer of 1918, Prince Erik came with the Spanish flu. At the time, Queen Victoria, who was ill herself was being treated in Italy. His father, King Gustaf was also abroad at the time. Prince Erik and King Gustaf were especially close, so when the king found out that his son was so sick there would be no chance of recovering, he ended his trip and made his way back to Sweden to be by his son's side. Unfortunately, the king was too late.
Prince Erik's older brother, Prince Wilhelm, was the only one who was present at Prince Erik's bedside when he died on September 20, 1918, at Drottningholm Palace. Prince Erik was only 29 years old.
Prince Erik was for many years after his death spoken fondly about by his family. His mother, Queen Victoria, once calling him "my beloved child of grief".
Today, he is buried in Stockholm, and his home on the outskirts of the city, Germaniavägen in Djursholm, was later sold. It has been in private ownership since the 1960s and is nowadays the private home of South Africa's ambassador to Sweden.
This article was first published on October 28, 2020.