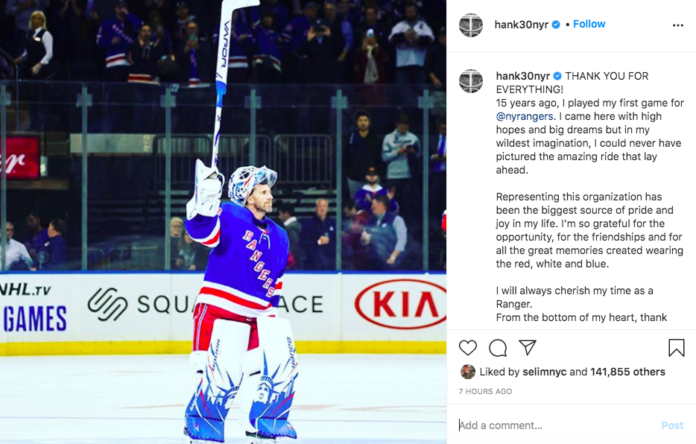 Henrik Lundqvist, one of the most iconic Swedes in the NHL, is leaving the New York Rangers after a whopping 15 years as the New York team's goaltender.
The club announced the departure after it was revealed that the Rangers had bought out the final year of Henrik Lundqvist's seven-year contract. This means that starting next season, the talented goalie will be a free agent – unrestricted for the first time in his career.
The Rangers took to social media to thank Henrik Lundqvist for his time with the club. On Instagram they wrote: "There are many stars in this league. There are few icons. Number 30, Henrik Lundqvist: You always have been, and always will be, a Ranger."
Henrik Lundqvist was quick to post equally as touching tributes to his former team: "THANK YOU FOR EVERYTHING!
15 years ago, I played my first game for @nyrangers. I came here with high hopes and big dreams but in my wildest imagination, I could never have pictured the amazing ride that lay ahead. Representing this organization has been the biggest source of pride and joy in my life. I'm so grateful for the opportunity, for the friendships, and for all the great memories created wearing the red, white, and blue. I will always cherish my time as a Ranger. From the bottom of my heart, thank you!", he wrote.
We're not crying, you are.
Originally from the popular ski town, Åre, in Sweden, the NHL veteran moved to New York in 2005 after being drafted by the New York Rangers from the Swedish club Frölunda HC. Considered one of the best goalies in Sweden at the time, it is to no one surprise that the talented Swede managed to take the United States by storm, and every ice hockey lovers heart with it.