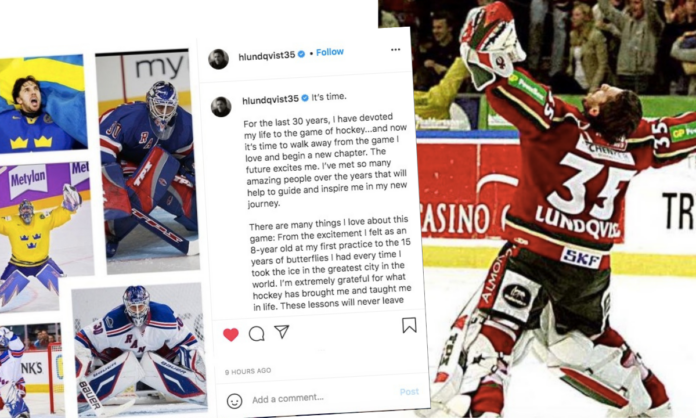 The legendary goaltender, Henrik Lundqvist, has announced that he is retiring after 15 years in the NHL.
After what has been a rough year health-wise for the Swede, he says in an Instagram post that 'it is time to walk away from the game'.
READ: Henrik Lundqvist opens up about his heart surgery
"For the last 30 years, I have devoted my life to the game of hockey…and now it's time to walk away from the game I love and begin a new chapter. The future excites me. I've met so many amazing people over the years that will help to guide and inspire me in my new journey."
 

 

View this post on Instagram

 
Lundqvist goes on to thank his former clubs and coaches, saying:
"Thank you to all the coaches and players that helped me throughout my career.
Thank you to Swedish hockey! From growing up and playing in Sweden to ultimately representing my country on the world stage – These are some of my proudest moments.
Thank you @nyrangers and New York City. I'm a born Swede but I'll always feel like a New Yorker thanks to you.
Thank you @NHL. This league was everything I dreamed of and more.
Lastly, thank you to the game of hockey and its fans! You gave my life purpose and I have loved every single minute of it!
Thank you all❤️"
Last year, Henrik Lundqvist left the New York Rangers after 15 years with the team. The Swedish goalkeeper shared a heartfelt goodbye to his former club and moved on to Washington Capitals. Shortly after, Henrik Lundqvist had to cancel the season, due to a heart problem, and had to undergo open-heart surgery.
According to ESPN, Henrik Lundqvist opened up about requiring a second heart surgery, although the extent of the surgery is still unknown.
Henrik Lundqvist is one of Sweden's most celebrated athletes and one of the most popular New York Rangers of all time.