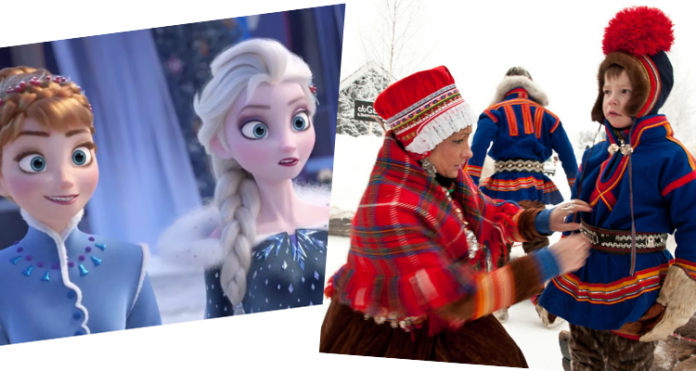 After the controversy over the claimed cultural appropriation of a group of indigenous Scandinavian people in the first Frozen movie, Disney agreed to consult the Sami tribe before making a sequel. 
The 2013 cartoon features the blue-eyed, blonde sisters, Elsa and Anna, who rules the kingdom of Arendelle. Everything seems fine at first, but the opening song at the beginning of the movie raised a number of questions from the audience.
The Sami people, which include indigenous communities in Norway, Sweden, and Finland, immediately noticed key details that shocked them. It turned out that one of the first songs in the film was a close copy of a traditional Sami song.
Vuelie, the song that played at the beginning of the cartoon, was recorded for the film by South Sami musician and composer Frode Fielheim, who transcribed it from one of his earlier songs Eatnemen Vuelie ("Song of the Earth"). In his music, he relies on the joik, an ancient vocal musical style that was outlawed when there was a Christianization of communities in northern Europe.
In addition, the jacket worn by one of the cartoon characters, Kristoff, resembled the Sami reindeer herders' traditional costume. It was these factors that caused outrage from the Sami tribe and the social media discussion.
Anna Laila Utsi, Managing Director of the International Sami Cinema Institute, said "This is a good example of how a big, international company like Disney acknowledges the fact that we own our own culture and stories. It hasn't happened before."
The Sami Parliaments of Norway, Sweden, and Finland, as well as the non-governmental Sami Council, contacted filmmakers to ensure that their culture is covered fairly in the sequel. They set up a Sami expert advisory group called Verddet to help directors accurately and respectfully present Sami culture, history, and traditions.
Directors Jennifer Lee, Chris Buck, and producer Peter Del Vecho sought the advice of experts from the Verddet group on how to adequately represent indigenous culture, which is largely and thoroughly elaborated in the film and the sequel. In fact, there is a group of people in the movie, called the Northuldra, who are inspired by the Sámi and have a prominent place in the sequel. 
The contract signed by Walt Disney, and the Sami leaders provides that "their collective and individual culture, including aesthetic elements, music, language, stories, history, and other traditional cultural expressions, are Sami property" and that "in order for Sami rights to be duly respected and their culture to be shared, they need to be sensitive, free, prior and informed".
"Disney's team really wanted to make it right," says Utsi. "They didn't want to make any mistakes or hurt anybody. We felt that they took it seriously. And the film shows that. We in Verddet are truly proud of this collaboration."
Frozen 2 comes out on November 22 — will you be watching it? Let us know in the comments below!