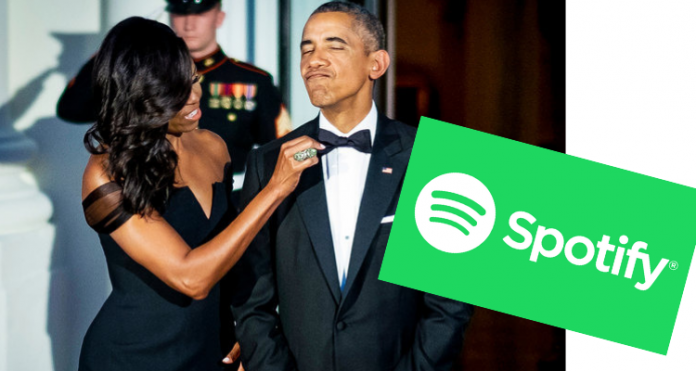 The Obamas and Spotify.
At first glance, it sounds like the previous President of the United States is about to drop the hottest album of 2019, but it's actually much more interesting than that.
In an effort to expand the podcast industry, Spotify has signed on Barack and Michelle Obama to produce a series of podcasts exclusively for the streaming platform. Under the contract, Spotify and Higher Ground Productions (the Obama's production company) are planning to produce podcasts on a wide range of topics. There are no specifics just yet, but we can already imagine the thought-provoking conversation and dialogue that will come from the partnership.
"We've always believed in the value of entertaining, thought-provoking conversation," President Obama said in a statement provided by Spotify.
Michelle Obama added, "We're thrilled to have the opportunity to amplify voices that are too often ignored or silenced altogether, and through Spotify, we can share those stories with the world. Our hope is that through compelling, inspirational storytelling, Higher Ground Audio will not only produce engaging podcasts but help people connect emotionally and open up their minds — and their hearts."
Swedish giant Spotify expects to invest around $400 million-$500 million in podcasts in 2019, which includes the acquisition of two podcasting companies. For them, bringing on the Obamas was a natural choice:
"President Barack Obama and Michelle Obama are two of the world's most important voices and it is a privilege to be working with them to identify and share stories that will inspire our global audience, which looks to Spotify for unique, breakthrough content," said Spotify chief content officer Dawn Ostroff.
Barack thinks so too. He ended his interview with a positive note:
"We're excited about Higher Ground Audio because podcasts offer an extraordinary opportunity to foster productive dialogue, make people smile and make people think, and, hopefully, bring us all a little closer together."
Are you excited for this partnership? Let us know in the comments!
Featured image: Pete Marovich/Bloomberg via Getty Images