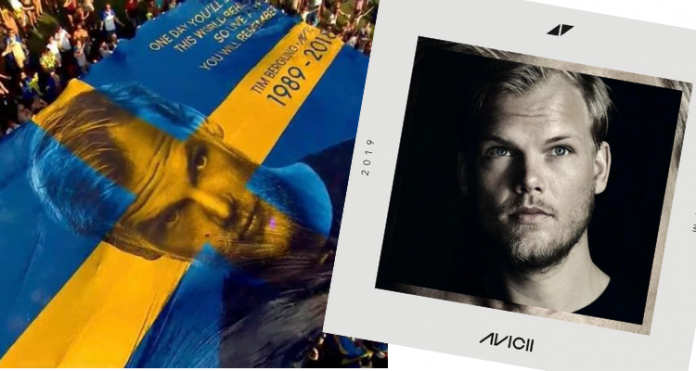 It's been more than a year since the passing of Swedish DJ & producer, Tim 'Avicii' Bergling.  Loved and adored by fans across the world, Tim's legacy came full circle yesterday, when an album of 12 songs was released on Sweden's National Day, the 6th of June.
The album, simply titled "Tim," features classical Avicii-style melodies and notes, along with vocals from long-time collaborators such as Aloe Blacc, Vargas & Lagola, Imagine Dragons, and more. Even Coldplay's lead singer, Chris Martin, lent his vocals to a track named "Heaven".
The album was still a work in progress when Avicii passed away, but thanks to his notes, the DJ's friends and collaborators could piece it together the way they think Avicii would have wanted it to be.
Apple Music spoke to Christopher Thordson, a member of Avicii's management team, about the newly released album and the notes that Tim left behind for each and every one of the songs.
"Peace of Mind" (feat. Vargas & Lagola)
"We made 'Peace of Mind' the very first track because Tim wanted to have it as an intro," says Christopher Thordson. "He also wrote that it's about society, how we're unable to disconnect from our cell phones. He said, 'This can be such a cool concept song, especially if we capitalize on 'peace of mind party' versus 'peace of mind I need a break from constant impressions,' meaning social impressions on Instagram. It's about putting your phone on flight mode and taking a break."
Avicii's comments were very specific, particularly around using lesser-known vocalists for the songs.

"SOS" (feat. Aloe Blacc)
"On 'SOS,' it was another demo vocalist originally," says Thordson. "But Tim wrote in his notes and told the songwriters, Kristoffer Fogelmark and Albin Nedler, that it would be really cool to have Aloe Blacc on it. That's an exception where we took in someone because Tim specifically said so. Otherwise, with the majority of these vocalists, they're the same as on the demos."
"Freak" (feat. Bonn)
"[Avicii] wrote in his notes that he absolutely loved that whistling," Thordson explains, referring to a sample from Japanese singer Kyu Sakamoto's 1961 song "Sukiyaki."
"...He was very clear that he wanted to use the original. He wrote, 'The whistle is probably my favorite production out of all of these,' and that he ripped it from YouTube. I think that's very characteristic of the way that he worked, that he finds something unique and he makes something really cool out of it."
"Tough Love" (feat. Agnes and Vargas & Lagola)
"Tim wrote that this one needs to be a duet," Thordson notes, "'Coolest thing would be a real couple or a couple that has worked together enough to almost be considered a couple. Something like Selena/Bieber, but not Selena/Bieber.' Originally, it was just Vincent Pontare of Vargas & Lagola. After I told the songwriters, Vincent and his wife—she's a quite famous Swedish artist as well, Agnes—said, 'Okay, let's try making a duet.' To actually have the original demo vocalist there, and to be able to have a real couple—that really made sense according to Tim's notes."
Carl Falk, Avicii's friend, and collaborator shared a touching sentiment when he was working to put the finishing touches on the album:
"Yesterday was a strange and emotional day in many ways trying to [finish] these songs. It's not the same producing without you by my side. I miss you hanging over my shoulder doubting every little thing and detail in the song."
Likewise, Vargas & Lagola, who have worked with Avicii since 2011, were also emotional during the process of finishing up the album:
"It was hard to just even open the computer and work on the songs," said Salem Al Fakir, who goes by Lagola. "We opened (the computer) like six months after everything happened."
"The family's wish was to release the songs … and that helped us finish the songs," he added.
Although Avicii may no longer be with us, his legacy and music continue to live on in the world. Forever in our hearts, minds, and ears. 
If you're interested in checking out the new album, there are playlists on Spotify <<https://open.spotify.com/album/6Ad1E9vl75ZB3Ir87zwXIJ>> and Youtube <<https://www.youtube.com/watch?v=xDPTHakqQDs>