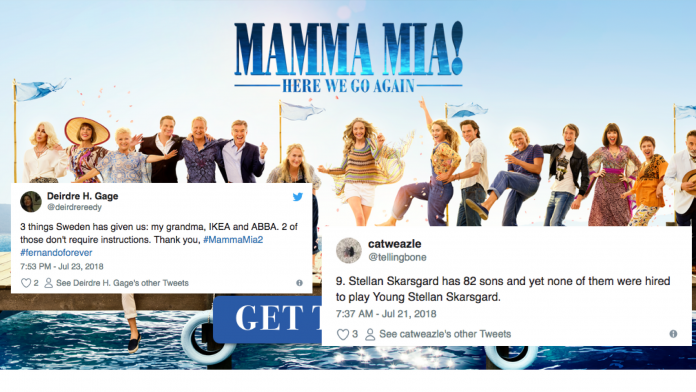 Mamma Mia is already poised to be one of this summer's blockbuster hits, making more than $89 million worldwide (the budget was $75 million) in its first week.
Need some (Swedish) inspiration to go out and watch the movie? Say no more – here are some of our favorite reactions!
Inquiring minds would like to know what Super Trouper is slang for in Swedish because goddamn it's a catchy tune! #Abba #MammaMia2

— Megs (@Megmo808) July 21, 2018
It's slang for being awesome. Promise.




Yes, I did cry on 3 separate occasions during #MammaMia2 and yes I will be singing nothing but ABBA for the next week pic.twitter.com/Tno1w9IVbr

— Aarushi ? (@AarushiAil) July 20, 2018
*queues up ABBA's greatest hits*





All men should wear Abba outfits like in Mamma Mia (1 and 2) because it sends their sexiness skyrocketing #MammaMia2 #MammaMiaHereWeGoAgain

— Reid Troxel (@thereidtroxel) July 24, 2018
Bring on the skin-tight jumpsuits.




3 things Sweden has given us: my grandma, IKEA and ABBA. 2 of those don't require instructions. Thank you, #MammaMia2 #fernandoforever

— Deirdre H. Gage (@deirdrereedy) July 24, 2018
A very old, and accurate, Swedish motto: Nothing worth having comes easy.
9. Stellan Skarsgard has 82 sons and yet none of them were hired to play Young Stellan Skarsgard.

— catweazle (@tellingbone) July 21, 2018
It's true. There are literally enough Skarsgårds to play the entire cast.




Just got out of Mamma Mia here we go again and now I need a cute Swedish boy to sweep me away and take me to Greece.

— Lana (@LanaDrinksPepsi) July 24, 2018
My brother is still single, in case you're looking? He's great at putting together IKEA furniture. That's about it. 
i can't believe mamma mia isn't on swedish netflix what is this disrespect

— sara (@alecsmercury) July 24, 2018
@NetflixNordic, what have you been smoking? Questions abound. 
thanks Josh Dylan from Mamma Mia 2 I now want to dump my bf and find myself a blond haired blue eyes swedish guy

— emma ♛ (@karkiemma) July 23, 2018
Look, guys, Swedish men are great and all, but just like the rest of the women in this world, Swedish women still prefer their pets. 
better book tickets to go see mamma mia before i get my swedish citizenship revoked

— josie (@wnterrbucky) July 22, 2018
This is actually written in the Swedish constitution.
I FELT MY SWEDISH ANCESTORS IN THE THEATER WITH ME DURING #mammamia2 THEY DIED SO I COULD HAVE THIS MOMENT ???? pic.twitter.com/U5FenJn3mV

— ghost beef ? (@tortillablanket) July 21, 2018
Heaven is just a 24/7 ABBA disco party. The Vikings are loving it! 
I can't stop thinking about #MammaMia2 it's nice seeing Americans so united by Swedish song and dance.

* @robynkonichiwa release new music and save America challenge*

— dejan (@heyDejan) July 17, 2018
ABBA: bringing the world together since 1979.