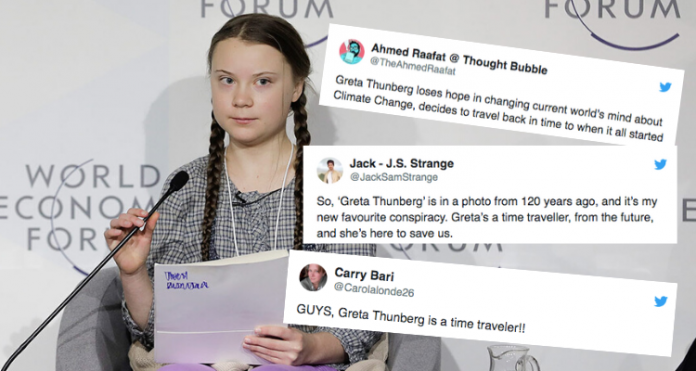 Greta Thunberg has accomplished a lot in her young 16-year old life, from speaking at a United Nations conference, leading a worldwide strike for climate change, and even being on the cover of Time magazine … but could this be her biggest "accomplishment" to date?
A 120-year old photo surfaced earlier this week that shows a girl that bears a very uncanny resemblance to Thunberg, from the same stoic expression to her signature braids. The photo, unearthed from archives at the University of Washington, shows three children working at a gold mine in Canada, including Greta's "twin." 
Of course, the internet couldn't pass up the chance to comment, with some users on Twitter calling her a "time traveler" and asking if she knows about her long-lost twin. 
Greta Thunberg loses hope in changing current world's mind about Climate Change, decides to travel back in time to when it all started pic.twitter.com/I7ikBtNzJ4

— Ahmed Raafat @ Thought Bubble (@TheAhmedRaafat) November 20, 2019
So, 'Greta Thunberg' is in a photo from 120 years ago, and it's my new favourite conspiracy. Greta's a time traveller, from the future, and she's here to save us. pic.twitter.com/5ObTjPFXvk

— Jack – J.S. Strange (@JackSamStrange) November 18, 2019
GUYS, Greta Thunberg is a time traveler!! pic.twitter.com/80vvBFoFo6

— Carry Bari (@Carolalonde26) November 19, 2019
Unfortunately, the rumors are false: "That is not Greta Thunberg [in the photo]," said James Stack, a reference librarian at the University of Washington, where the photo came from.
It is possible that the girl was a member of the Swedish community in the Yukon at the time, when thousands of people from around the world came in search of gold. 
Multiple news outlets have reached out to Greta for comment, but she has not responded yet. Chances are she's busy modifying her time machine with solar panels.
What's your take — does the girl look like Greta? Let us know in the comments below!
This article was originally published on November 22, 2019.