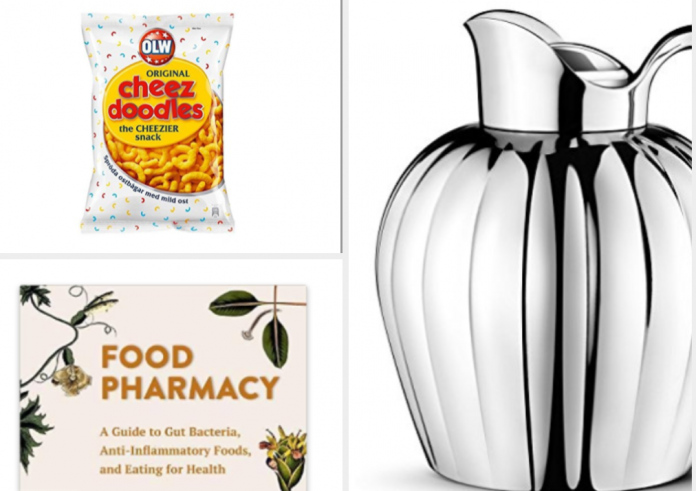 Candy and snacks
Ostbågar or Cheese doodles – $15.25 for 2 packs
Many Swedes favorite snacks. Thankfully – it can be found on Amazon. I say just get two straight away. That's how much you are going to love them.
Malaco Djungelvrål – $9.75 for pack of 2
This classic salty licorice, directly translated to Jungle Scream, is a favorite among many Swedes.
The widely popular candy caused a lot of commotion in 2015, when Swedes found out that the candy does in fact not depict monkeys, but all sorts of animals including squirrels. A Swede sadly proclaiming that her life is a lie. You can read the article here
Marabou Digestive – $11.99 for 2 Bars x 100g


Aaaah Marabou! Every Swede has their own favorite. The most famous chocolate in Sweden with more tastes and versions than you can probably count. I recommend giving Digestive a try. Thankfully for                                                       everyone, you can find the best of Marabou's on Amazon!


Cloetta Kexchoklad – $7.55 for 156g
Go' och gla' kexchocklad! (direct translation = yummy and happy wafer chocolate) This chocolate has been around since 1921 in Sweden and has a very special place in many Swedes heart. Pro tip: Terribly hard to eat when it starts melting. Avoid at all costs.
OLW Dill & Gräslok – $8.35 for 200g
OLW and Estrella are the two biggest chips companies in the U.S. Obviously, OLW has the upper hand in making themselves available to all the craving Swedes by being on Amazon.
Dill and Chives, two very Swedish flavors, on chips. Doesn't get any better.
 Books
Food Pharmacy: A Guide to Gut Bacteria, Anti-Inflammatory Foods, and Eating for Health
It's no news to anyone that Sweden has been going through a permanent health craze since probably the beginning of time. So, maybe it's no surprise that this is one of the best-selling books in Sweden right now? It's a must have if you want to get to know your gut better, and eat healthier.
Camilla Läckberg is one of Sweden's most successful authors. Releasing one chilling crime book after another, the Swedes and the world have come to love her books. If you haven't already read it, order "The Ice Princess" home today.
The Brothers Lionheart
The Brothers Lionheart, originally Bröderna Lejonhjärta, is an old classic from Sweden's favorite child-book author, Astrid Lindgren. Astrid Lindgren most famous works in the U.S. is undoubtedly Pippi Longstocking, but this tale about two brothers who follow each other into the afterlife is beautiful and strong, and deserves more attention.
Children's book – Am I small? Är jag liten? $9.95
This bi-lingual book is perfect for any toddler out there learning how to master the two languages. It can be tricky sometimes, but "Är jag liten?" is the perfect start.
Swedish Folk Tales illustrated by John Bauer
We know, this looks like a children's book as well. Well it kind of is, but it is equally as fun for adults, whether you're Swedish, American, none of the two, or both. Us Swedes have a lively fantasy and getting lost in our enchanting folk tales with fairies and trolls, is both amusing and a tad bit scary.
Lars Kepler – The Fire Witness
So, Lars Kepler, who's that? No one actually. Lars Kepler is the pen name of spouses Alexander and Alexandra Ahndoril, that co-author these page turners together. I have so many books by "Lars Kepler" that I would want to recommend to you. But if you haven't read any of their books yet, start with "The Fire Witness"
Design 

Rörstrand Mon Amie Dinner Plate 10.6″


The Rörstrand Mon Amie collection from 1952 is the created by designer Marianne Westman in collaboration with Rörstrand, a Swedish porcelain company established in 1726, originally in Rörstrands Castle.
Tanssi Cup By Klaus Haapaniemi for Iittala

Personally one of my favorite cups. From Iittala (which is Finnish, I know) I had to include this cup because it is beautiful, and breathes Scandinavia. Iittala might be Finnish but is a very popular brand in Sweden and can be found in many Swedish homes, including my own. Taika and Tanssi is both worth checking out on Amazon. Actually, all of Iittala is worth checking out. Do it. Now.
Plättar&Pannkakor – Nordic Ware Scandinavian Silver Dollar Pancake Pan
Any American that's ever known a Swede, knows that we like our pancakes flat. This pan is perfect for making small Swedish pancakes, also known as "Plättar".
Buy this and make your own Swedish pancakes from either scratch or buy a mix. You can thank me later.
Georg Jensen Bernadotte Steel Thermos Jug
The design collaboration between the Swedish Prince Sigvard Bernadotte and the biggest design houses from Denmark has been nothing short of a success. A welcome addition to our fika traditions, this Georg Jensen Bernadotte thermos can be found in many Swedish homes.