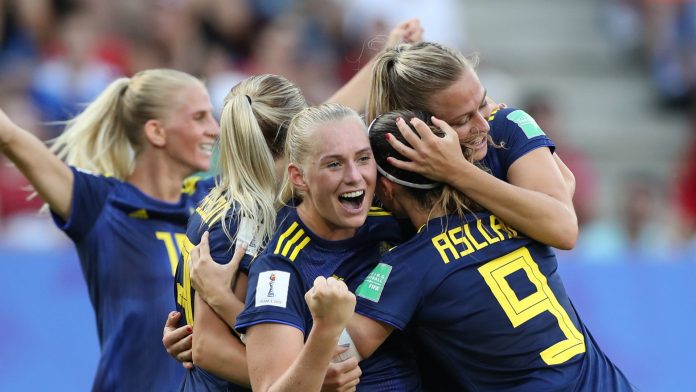 Sixteen minutes into the game was all it took for German soccer player Lina Magull to score a goal against Sweden. 
The crowd gasped. Was this a continuation of the 24-year curse that haunted Sweden every time they played against Germany? Ever since a match at the Euro 1997 games, Sweden has consistently been beaten by Germany: at the European Championships in 2001, the World Cup in 2003, and even the quarter-final at OS 2008. 
But not this time. No less than six minutes after the initial goal, Sweden's Sofia Jakobsson fought back and scored the first goal for her team by lining up the perfect angle and shooting the ball right past the goalkeeper. 
The next big success for Sweden, came in the second half of the game when Stina Blackstenius scored a second goal for her team and propelled the Swedish national team into the Women's World Cup semi-final round. There they'll face off against the Netherlands, hopefully making their way to the final. 
After the final buzzer signaled the end of the game, the Swedish team couldn't contain their joy as they danced on the field to celebrate their big win.
Defender Hanna Glas stated, "I can hardly believe it's true. Finally. I can hardly understand it. It [was] a whole team effort. From Hedvig to backline, to midfield and attack. It was everything we did together."
Are you excited to see team Sweden face off against the Netherlands? Who do you think will win the championship? Let us know in the comments below!
Featured image: Bildbyrån