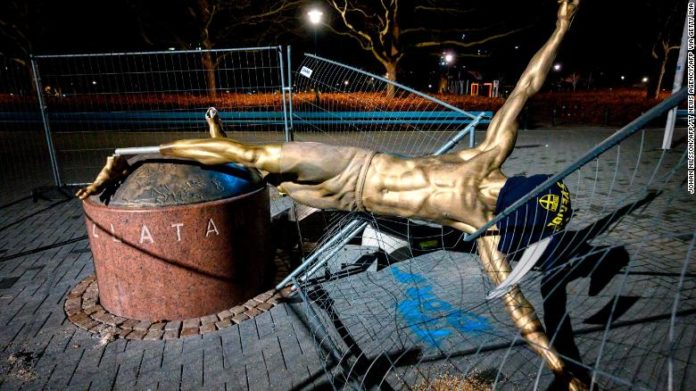 Zlatan Ibrahimovic was always seen as a superstar in Malmö, the city where he started his football career over 20 years ago. Ibrahimović was born in Malmö and signed his first contract with Malmö Fotbollförening in 1996 before moving up to the senior side for the 1999 season. In fact, the city loved Ibrahimovic so much that they erected a statue in his honor this past October.

But all is not well in Zlatan world. When news broke that Zlatan had invested in the rivaling team, Hammarby IF, Malmö fans spray painted and set the statue of Ibrahimovic on fire. Fans located in the capital went over to his house in central Stockholm and wrote the word "Judas" (among other things) on the front door and poured surstromming (foul-smelling fermented herring) in the doorway. Later the next day, a toilet seat was placed around one of the statue's arms and a plastic bag put over its face. 

The final straw came in January, when vandals sawed off both legs, causing the statue to topple over.

"The best way to solve [the problem] is if it is removed and put somewhere in Stockholm or something," Kaveh Hosseinpour, vice-chairman of Malmo's official supporters' group said about the statue.

Now, that may be a reality. The sculptor who created the towering statue of Zlatan Ibrahimovic has called for it to be moved to Milan:

"Stick it in Milan, that would be a good place. There they're happy for him, and not so idiotic as they are here," Peter Linde told a newspaper. Ibrahimović is currently signed as a free transfer for Milan on a six-month contract.

At the moment, the statue has been moved to a secret location for repair.

Will Statue Zlatan ever see the light? Only time will tell!