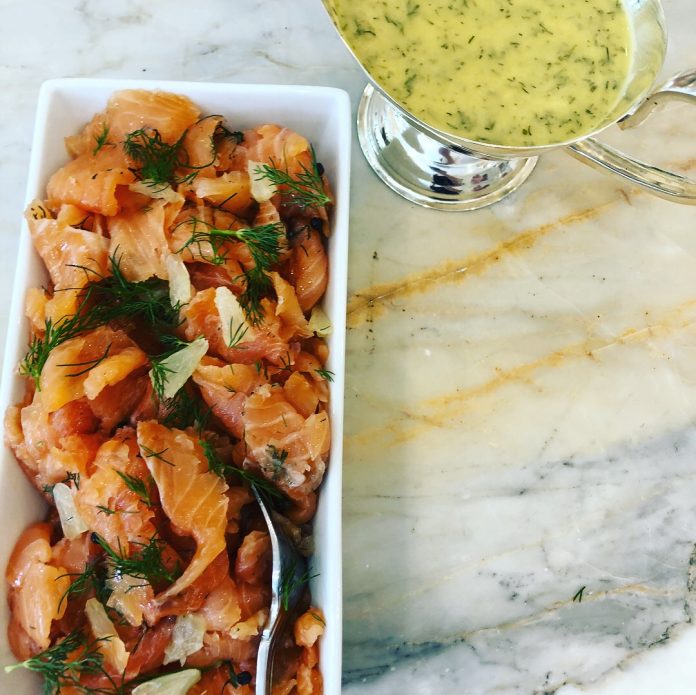 Gravad Lax is one of the most popular dishes during Swedish holidays. We usually prepare it for Christmas, Easter, and Midsummer. It is also extremely simple to make. All it takes are four ingredients: salmon, sugar, salt, and dill. You can also add flavors to create a unique flavor, such as any citrus zest, or a tad of alcohol for different variations.
Here is the key. It is half the amount of salt to the amount of sugar. Simple as it can be. The key is to buy very fresh salmon and then, let it cure until saturated before putting it in the fridge for one to three days to cure. All we have to do is to turn the salmon over twice a day (in the am and pm) to ensure that both sides get cured. Voila!
Ingredients
3 pounds salmon filet, preferably skin on. Cut in half.
3 TBSP sugar
1.5 TBSP salt
3 TBSP finely chopped dill

Instructions
1. Trim the salmon filet and cut away any uneven edges. Make sure there are no bones by running your fingers up and down the fillet.
2. Mix the sugar and salt with the dill. Pepper if you want.
3. Prepare a glass baking dish by putting plastic wrap enough to cover the salmon.
4. Sprinkle half the mixture over the fillet and rub it down. Place the fillet onto the plastic wrap and cover it with the second half. Make sure they are evenly aligned.
Wrap the plastic wrap tightly. Then, add something heavy and place in the refrigerator.
5. After about 12 hours, remove the weight and turn it over. Place the weight again. After about 12 hours, do the same. On the second day, take the salmon out and sample it. If it doesn't feel 100% cured, just let it sit for a little bit longer. When you feel it is ready, take it out and slice it thinly. Make sure you have a really sharp knife and slice it as thinly as you can.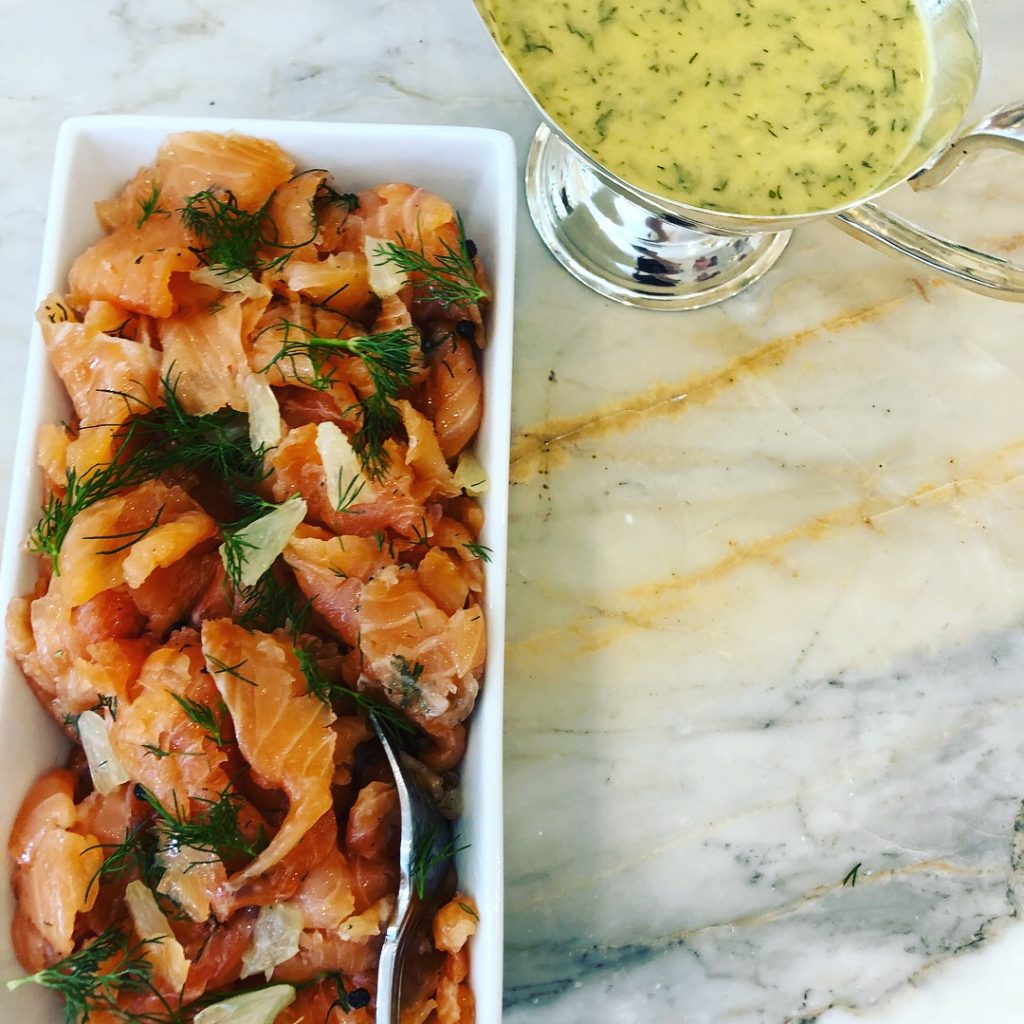 It's also quite popular, in Sweden, to serve your gravad lax with Hovmästarsås. Emily's recipe for the sauce is extremely easy to whip up.
Ingredients
2 TBSP Swedish style mustard
1 TBSP dijon mustard
1 TBSP sugar
1 TBSP white wine vinegar
3/4 cup canola oil
1/4 cup finely chopped dill
1/2 tsp salt
pepper to taste
Instructions
1. Whisk together all ingredients and serve with the Gravlax! Mmmm.